Thao & The Get Down Stay Down


We The Common
Ribbon Music [2013]



Fire Note Says: We the Common delivers on the promise of earlier work and is the finest album yet from Thao & The Get Down Stay Down!
Album Review: Thao Nguyen first came to my attention with 2008's We Brave Bee Stings and All. I was struck by her voice and the confessional nature of her lyrics. While showing a great deal of promise, Bee Stings was a bit too uneven for me. However, it put Thao on my radar, and I have been waiting for the album that would finally fulfill the promise shown on that record. With We the Common, Thao & The Get Down Stay Down, deliver on that promise and have crafted a great album! Thao's sound can be tricky to pin down, it's not quite folk, but it's not really pop either. She's not experimental, but she's not entirely uneclectic either. Her music lies somewhere in-between those lines, she's all of those things, without ever really being any of them. On We the Common, her lyrical focus isn't as confessional, it's more outward looking, more confident, and shows tremendous artistic growth.
"We the Common (For Valerie Bolden)" rolls along on a banjo riff that moves like a warped bike tire, before the big vocal and backing track comes in. The effect is quite remarkable, and it is a fantastic way to start the record. Right from the get-go, you know you are in for a treat! "City" has a rock swagger that is a very welcome surprise, particularly in the lead guitar line. One of the highlights for me was "We Don't Call", which features a trippy beat, distorted vocals, a cool horn line, and I can't tell if it's a keyboard or a xylophone, but something accents her vocal melody perfectly. It's a great track. "Kindness Be Conceived" is a duet with Joanna Newsom, it's not bad, but it's not as exciting as I had hoped it would be, though their voices do sound quite interesting together.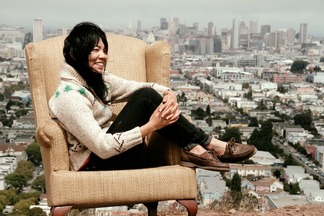 Props should also be given to producer, John Congleton, who has worked with a long list of impressive acts (Bill Callahan, St Vincent, Explosions in the Sky, Walkmen, Wye Oak, etc). Not only is the performance of the entire band remarkable on the record, but Congleton's work is especially noteworthy. This is a big sounding quirky record, and incredibly well constructed! We the Common is the sound of a talented band and artist coming together with an incredible producer to make the best album of their career to date, delivering completely on the promise of earlier works!
Key Tracks: "We the Common (For Valerie Bolden)", "We Don't Call", "Holy Roller"
Artists With Similar Fire: St Vincent / Cat Power / Bat For Lashes
Thao & The Get Down Stay Down Website
Thao & The Get Down Stay Down Facebook
Ribbon Music
-Reviewed by Kevin Poindexter

Latest posts by Kevin Poindexter
(see all)