Sun Hoax


Biome Digs EP / Full Joy EP
Self-Released [2014]



Fire Note Says: Sun Hoax is the latest offering from lo-fi auteur Dean Wells.
Album Review: Dean Wells is the lo-fi wizard behind The Capstan Shafts, and if you haven't heard any of their recordings, I'm going to need you to rectify that as soon as possible. Wells specializes in high octane lo fi pop gems, that I always compare to if Tobin Sprout was the full time lead singer for Guided By Voices. That's really the easiest way to describe his music, and it's a little lazy perhaps to say that, but it gives you as a potential fan a good idea of what this is going to sound like. Sun Hoax is the latest project from Wells, following last year's Rare High, who released an album and a series of eps, and Loud Springs, who released a few eps the year before. This is becoming an annual event from Wells, a new year, a new set of excellent songs, and a low key release with no fanfare or advance warning. Sun Hoax just seemed to appear out of the blue one day!
Biome Digs, clocks in at 3 songs and around 4 minutes, so it's pretty obvious what you are getting, fast pop songs, that get in and get out before you know what hit you. All three songs, "Biome Digs", "Reasonably Jinx Street" and "Sabbath Raspberries", are stellar cuts. Heck I have already heard them all in the time I have spent typing this paragraph, and I am about to start it over from the beginning and go again before I talk about Full Joy. Of the two eps, Full Joy, is a bit more polished and refined. The title track lays off the throttle just a bit, and that really makes it a standout track. Man, "Western Pivot "more than makes up for it though, it's a full blown rock assault on the old earhole. This is the good stuff, the sound that could launch a thousand lo-fi auteurs if they would get a chance to hear this!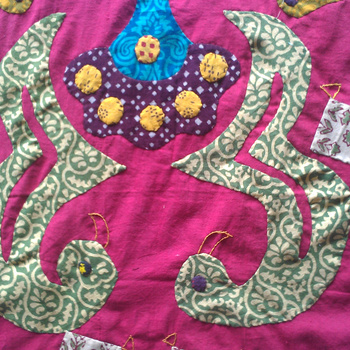 At only 8 minutes in length, these two eps, can be thought of as a single 7" release if you really wanted to. I think of classics like The Grand Hour or Tigerbomb when I play these two eps back to back. If you love the old school lo-fi mid 90's sound as much as I do, go to Bandcamp and download these two eps. These are a fine introduction into the wild world of Dean Wells. After you have a handle on these, go dig into his Capstan Shafts and Rare High recordings, you have a veritable treasure trove that is awaiting you to discover it!
Key Tracks: "Full Joy" / "Western Pivot" / "Biome Digs"
Artists With Similar Fire: Guided By Voices / The Capstan Shafts / Sebadoh

Sun Hoax Website
– Reviewed by Kevin Poindexter

Latest posts by Kevin Poindexter
(see all)