St. Vincent


Masseduction
Loma Vista Recordings [2017]


Fire Note Says: St. Vincent builds on the success of her last album, bringing her performance art mechanics, manic guitar noise and energetic electro-pop hysterics face to face with tragedy and lives to tell about it.
Album Review: St. Vincent's eponymously titled 4th solo album, released in 2014, was easily her most accessible album, while also delivering some pretty amazing songs packaged with electro-pop polish, and marked by her unique guitar playing. And it paid off big, landing her on dozens of "best of year" lists and winning that year's Grammy for Best Alternative Album, notably the first time a solo female artist had won that honor since Sinead O'Connor did in 1991. And then, when Nirvana was inducted into the Rock & Roll Hall of Fame that year, she was one of 5 women who performed with the band at the induction ceremony, rocking on "Lithium."
St. Vincent, aka Annie Clark, got her start as a multi-instrumentalist with The Polyphonic Spree, the psychedelic rock choir experience, and then did a stint supporting Sufjan Stevens prior to starting her solo career under her chosen saintly moniker, which she has said she borrowed from a Nick Cave lyric: "Dylan Thomas died drunk in St. Vincent's hospital." And in 2012, she collaborated with former Talking Heads frontman David Byrne to produce Love This Giant, which emphasized a brass band over traditional alternative guitar rock. St. Vincent's bona fides are impressive by any standard.
After three years, St. Vincent, whose use of the pseudonym suggests an artistic distance between Clarke and the persona in her songs and live shows, clearly approaches her work like an a performance artist as well as a musician. While her songs are melodically evocative, she's thinking big picture, creating an artistic statement about the current shape of the world, or at least her experience of it, letting her works reveal pieces of her own humanity even as she hides behind the visual mystique created through her art, songs, videos and costumes. The end result, on St. Vincent and on her latest, Masseducation, is as evocative as it is engaging, as challenging as it is entertaining.
While turning to producer Jack Antonoff, know for his work with Taylor Swift and Lorde, St. Vincent is more idiosyncratic than her last outing, the arrangements leaner and more sparse, her vocals more distinct and delivered with a unique quirkiness. "Hang On Me" opens using a plane crash as a metaphor for a doomed relationship. "You and me, we're not for this world" she sings in a whisper, over a stuttery drum machine beat and a lush string arrangement. "Pills," takes on our growing modern pharmaceutical reliance, interestingly leaning on a bouncy sing-song melody that recalls the "oompa loompa" song from Willy Wonka fame, until it reaches the crash and burn verse near the end. A far more effective message than the recent revival of "Just Say No," as Kamasi Washington's bluesy sax tones fade out to a haunting end.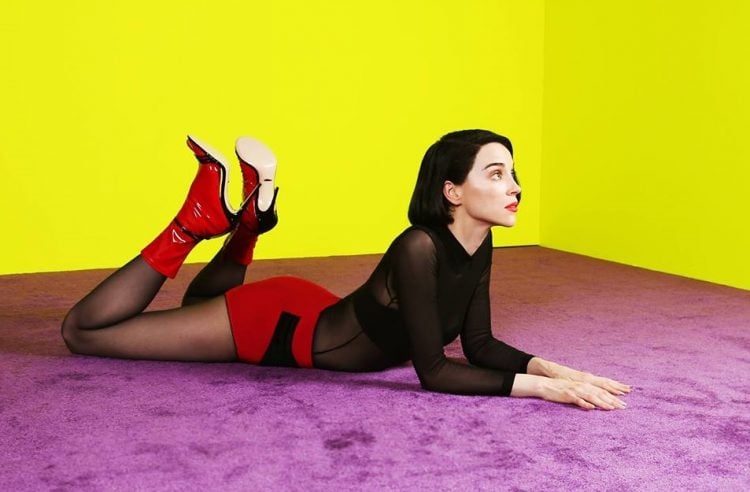 The title track, which is pronounced mass seduction, which hangs on the knowing line, "I can't turn off what turns me on," contains the strongest example of Clark's stellar guitar sounds. Recalling Adrian Belew's heavily enhanced approached to the guitar, whose fun noises imitating birds, elephants and mechanical sounds, appeared with folk like David Bowie, Frank Zappa, King Crimson and Laurie Anderson, St. Vincent has avoided leaning on this technique entirely, but her crafty, and satisfying guitar playing is a unique and substantial contribution in her music.
Like the album's title, you have to look twice at the title of "Los Ageless," to make sure it says what it says, while clearly a take on Los Angeles' worship of youth culture and a plastic superficiality based on appearances only. "Sugarboy" most resembles the high-energy electro-pop of St. Vincent, but the sugary sweet texture hides a darker story: "a casualty hangin' on from the balcony." But the sense of tragedy, takes a bigger hold on the album's musical focus on the second half, beginning with a piano ballad, "Happy Birthday, Johnny" with a glorious pedal slide guitar accompaniment. Similarly, "New York" is a stripped back piano song with strings and a chorus on the hook, about having "lost a hero, I have lost a friend," which seems to suggest the passing of Bowie, or perhaps even Lou Reed, or someone else who was "the only motherfucker in the city who can handle me." It's a moving epitaph for it's honesty and playful self-revelation.
And so it goes on Masseduction, it can be warm and close, or cold and hard, but it's impossible to ignore. "Savior" offers up a playful sexy funk hook, while "Fear The Future" leans toward a darker techno vibe, while Clark's voice soars, while the industrial tones rage, and "Young Lover" throbs with anxiety as the the protagonist fears every possibility she can imagine. Finally, the closing two tracks, "Slow Disco" and "Smoking Section," truly haunted ballads ("leave you dancing with ghosts"), where there are threats of suicide before asking "what could be better than love," and concluding that "it's not the end." Well, talk about your melancholy and the infinite sadness. St. Vincent has that covered, and she does it beautifully.
Key Tracks: "New York" / "Los Ageless" / "Masseduction"
Artists With Similar Fire: Björk / Beck / Talking Heads
St. Vincent Website
St. Vincent Facebook
Loma Vista Recordings
– Reviewed by Brian Q. Newcomb
Latest posts by Brian Q. Newcomb
(see all)