Seth Bogart


Seth Bogart
Burger Records [2016]


Fire Note Says: Seth Bogart's self-titled solo album is a wild and colorful ride.
Album Review: You're a member of a punk band (Hunx and His Punx) with a cult following. You're also a hairdresser. You want to make your first album under your own name – Seth Bogart – shedding the Hunx persona. So what do you do? You make a weird-ass pop album full of attention-grabbing music and provocative lyrics. Mostly, it works. Somehow.
It's difficult to describe just what you'll find on Seth Bogart. There is an ode to cuckoldry, a club jam full of flagrantly false braggadocio, and the single about a woman's addiction to eating makeup. "Eating Makeup" is a song that I've played for my kids – I was expecting them to tell me turn it off immediately but it's so out there, it drew them in. It's no coincidence that Bogart is using Pee Wee Herman's aesthetic to bring this album to life in art installations. "Eating Makeup" has vocals that are sung in falsetto and slightly off-key; it sounds like that something that could be played in the Mos Eisley Cantina. I can't say that I love the song, but it's so different than anything I've heard recently that I appreciate it immensely.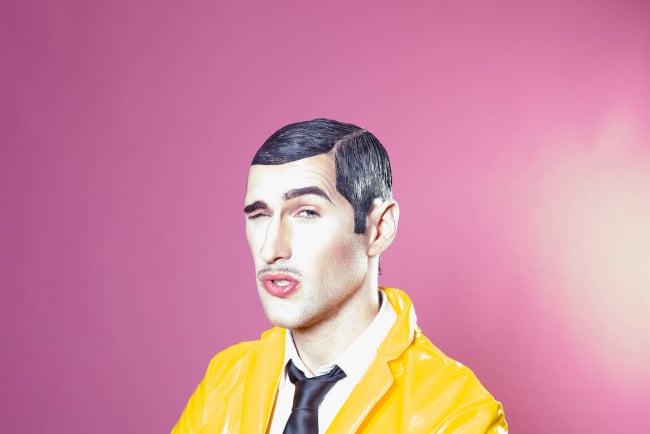 There are many more WTF (has Marc Maron trademarked this yet?) moments on the eponymous album. I haven't listened to anything like this in a while. It reminded me some of the brashness of Kanye West without the pomposity – Bogart is in on these jokes. However, he can write songs with the best of them. When he plays it straight, like on album opener "Hollywood Squares" or the moody ballad "Forgotten Fantazy," his talent shows. He doesn't need all of the distraction and camp that fills the rest of the album, but it sure makes it fun. I mean, how can you not be amused by the lyric, "I love to lube you baby", sung sweetly and without a hint of irony.
I've been watching some of Ty Segall's televised performances in support of his tour. The Fire Note did a review of one of the stops on said tour. The tone of those performances fit well with what Seth Bogart is doing here. Bogart lets it all hang out there but still manages to make highly engaging and listenable music. That's a tall order. That being said I have no idea about the longevity of this album. It may stay in my rotation for a while or it may fade from my memory. This is a potentially influential album in its risk-taking and broaching topics that don't typically get mentioned in popular music.
Key Tracks: "Hollywood Squares" / "Forgotten Fantazy" / "Club With Me"
Artists With Similar Fire: Hunx and His Punx / Ty Segall / King Tuff
Seth Bogart Website
Seth Bogart Facebook
Burger Records
-Reviewed by Matthew Heiner

Latest posts by Matthew Heiner
(see all)