Scott H. Biram


Nothin' But Blood
Bloodshot Records [2014]



Fire Note Says: Scott H. Biram contemplates what's next on the hard living Nothin' But Blood.
Album Review: Hard living can have its consequences and one man jam band Scott H. Biram knows it all too well. On his new record, Nothin' But Blood, Biram starts to really think about his past behavior and how that might impact his chances of moving upstairs after he checks out. This of course is a battle of the psyche and for Biram, I am not sure how he wants it to turn out or if he really cares!
That attitude, questioning and cautious reserve is exactly why Nothin' But Blood is worth your ear. The many different sides of Biram has never been so complex, as it is here, with tracks like the Willie Nelson sounding "Never Comin' Home" as he tells the story of leaving pain and heartache behind but also can't stop drifting as he moves forward. "Gotta Get To Heaven" is a perfect bar foot tapper that is a direct reflection on this working man's road of redemption complete with some hints on how to take the fast track upwards complete with several "hallelujahs!" Then there is the huge foot stomper "Old Whiskey" where he transforms into a country shocked White Stripes. What can you say about the lines "only whiskey can sleep in my bed" – "I buried my heart on the side of the road!" Other times, Biram's roughed up and weathered vocals take the life of a seasoned Tom Waits that has grit and passion which gives the record an extra punch throughout Nothin' But Blood.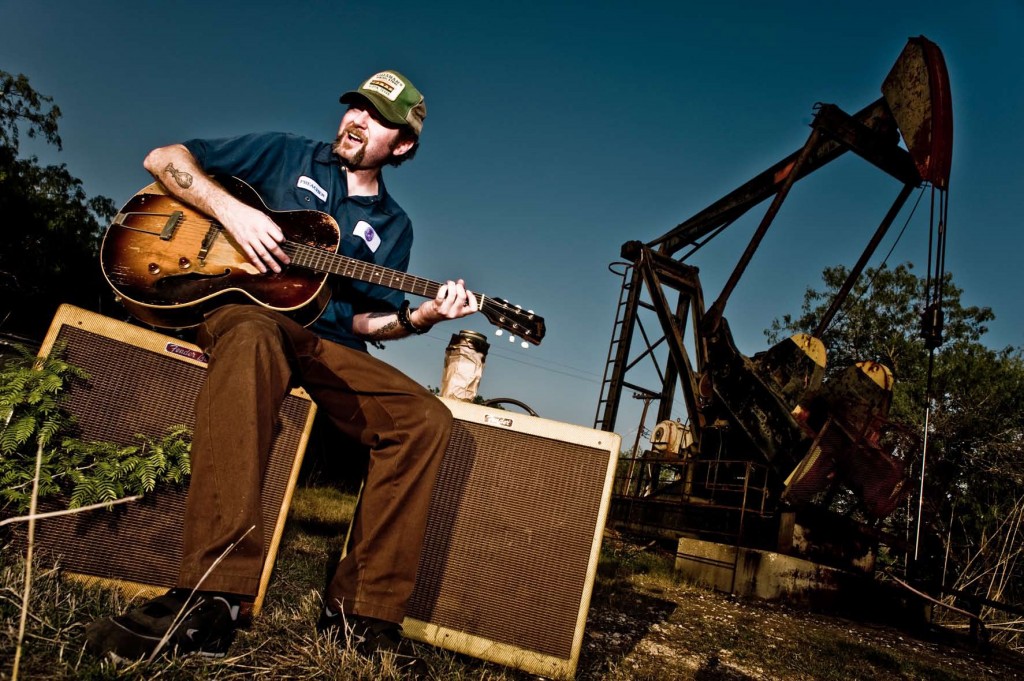 Nothin' But Blood will most likely surprise many with its one foot in gospel, one foot in country and an extra foot in dirty and sinful rock n roll. It is a mix that works and right up to the closing three gospel songs which includes a heartfelt "Amazing Grace" complete with harmonica and a tambourine filled "John The Revelator." Scott H. Biram is one of those artists that nobody ever touts as being their favorite but he makes records that you just can't turn off when you finally get a taste.
Key Tracks: "Gotta Get To Heaven", "Old Whiskey", "Church Point Girls"
Artists With Similar Fire: Tom Waits / Hank Williams III / Ben Weaver

Scott H. Biram Website
Scott H. Biram Facebook
Bloodshot Records
– Reviewed by Christopher Anthony

Latest posts by Christopher Anthony
(see all)