David Bazan


Blanco
Barsuk Records [2016]


Fire Note Says: Bazan returns to synths and drum machines, but retains his songwriting chops.
Album Review: David Bazan fans have come to expect upheaval when it comes his musical output. The longtime singer, guitarist and songwriter for Pedro the Lion—favorite emo-inflected indie rock band of disaffected Christian teens and twenty-somethings everywhere—shuttered the band in 2006 after releasing arguably their best album, 2004's Achilles Heel. While Bazan released a string of solo albums starting with 2009's Curse Your Branches, which essentially saw him reject his religious beliefs, the closest analog to this new record is his 2005 album with Pedro accomplice T.W. Walsh and Frank Lenz under the moniker Headphones, which featured synth and drum-machine-based tracks a-la Ben Gibbard's work with Jimmy Tamborello as The Postal Service. Blanco takes a similar approach to Headphones, with only minimal guitar appearing over the album's ten songs.
While it's not as strong as Headphones or the creative peak Bazan seemed to reach around 2004-2009, the album is a respectable entry into his solo catalog, with some strong tracks that find him reflecting on adulthood, responsibility, and relationships rather than the more heady theological concerns of the past. Tracks like "With You" examine the nature of trust in romantic relationships, while others like "Someone Else's Bet" express the frustration and worry of making ends meet. It's a distinct shift in style, a little less personal but at the same time more relatable.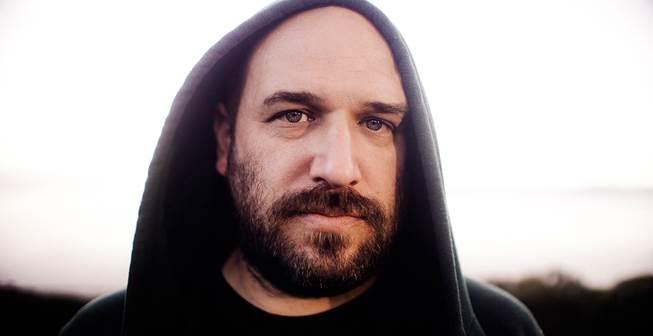 Musically, the albums reliance on synths and drum machines can get a little monotonous at times. Nearly every track has a repetitive drum loop, deep synth bass, and a mix of atmospheric synth pads and more distinct keyboard riffs. It's not necessarily a bad sound paired with Bazan's instantly recognizable baritone vocals (as Headphones proved), but the arrangements on Blanco are not quite as diverse as his previous synth-based experiments. While that gives the album a more uniform sound, it also means that tracks that deviate from the pattern automatically stand out, mostly in a good way: the acoustic guitar on "Kept Secrets," for example, or the piano touches on the new-wavey "Tear Drops," give those tracks a more human quality that is a welcome change of pace from the more repetitive synth and drum-machine only tracks. Other highlights include the opener "Both Hands," with its maxed-out drum loops and cacophony of choral keyboard sounds underpinning an effortless vocal melody, and "Little Landslide," another stripped-down acoustic track that is one of the more relaxed tracks on the album. "Little Motor," which closes the album," is also a great track, one whose more fleshed-out, piano-tinged arrangement ends the album on a high note.
While Blanco isn't going to convert the uninitiated, long-time Bazan fans will find plenty to like on Blanco. Not every song is a winner, but almost every song here has a redeeming quality, and Bazan sounds more relaxed and confident than he has in a long time. There's plenty of lyrical minutia to pore over, as always, and Bazan still has a knack for pairing them with effortless vocal hooks. If you want a return to the Pedro days, then this album isn't for you; but if you want to hear where David Bazan is in 2016, give Blanco a listen.
Key Tracks: "Kept Secrets" / "Teardrops" / "Little Motor"
Artists With Similar Fire: Starflyer 59 / Father John Misty / Aaron Sprinkle

David Bazan Website
David Bazan Facebook
Barsuk Records
-Reviewed by Simon Workman

Latest posts by Simon Workman
(see all)