Rage Against The Machine


XX – 20th Anniversary Edition
Epic/Legacy Recordings [2012]



Fire Note Says: 20 Years later – raging against the machine still feels as good as it ever did.
Album Review: I consider myself a lucky man, at 27 years of age I've been able to see Rage Against The Machine, and I feel that many 27 year olds can't say that. Most of you will never know what it feels like to afterward rage through the streets of Chicago with your best friend, it's a hell of a feeling, just believe me. It just makes me even more excited to dig into what is the twentieth anniversary reissue of Rage Against the Machine's self-titled classic.
Released in November of 1992 Rage Against the Machine was onto something big, a seamless meld of emotionally charged hip-hop and some of the heaviest funk that I've ever heard. It also marks a point in time where such a politically charged band could achieve wide spread appeal. What I really want to talk about in the reissue is the bonus tracks that come along with it. Still the original album is as hard hitting and as relevant as it's ever been. From every strategically picked squeal, sound, guitar trickery, and solo from Tom Morello's guitar is the sound of a generation. Every growl, yell, snarl, and rhyme dropped is a gift from Zach De La Rocha. If you've heard this album before then you're counting the songs in along with Zach, you're screaming "Fuck you, I won't do what you tell me", or you know exactly when to say "bring that shit in", You sing along in a droned whisper as Tool's Maynard James Keenan tells you he has no patients then exploding into a yell, and every raging riff and solo is mimicked flawlessly with your impeccable air guitar. The album is a true stand out that deserved this treatment but on to the bonus tracks.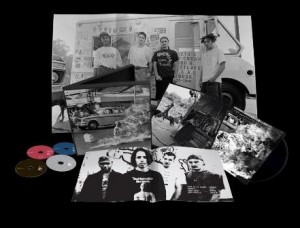 I did some research and in doing so I found out that technically aside from their live stuff on the second disc, the material presented could represent the demo tape that was sold at concerts in the early days as well as what was submitted to Epic records. The beginning three live tracks "Bombtrack", "Bullet in the Head", and "Take the Power Back" are neat but they might be considered a bit of a diversion. What makes this package are the couple of demo tracks that didn't ever make it to the self-tiled. "Darkness of Greed "when it's not pounding heavy hypocrisy into your ears what comes is a bouncy bass and a Morello playing an almost smooth as glass jazz. "Clear the Lane" blasts the ears with Morello on his signature WH-1 Whammy pedal producing an alarm to ears everywhere. Drummer Brad Wilk drops a steady beat as De La Rocha does what he does best. Mindset's a Threat" for whatever reason drops a Les Claypool like image in my brain. The lyrics seem to come to me with that weird rhyme whisper tact that Claypool produces. Music, mood, and tone being far from it, it's just what my mind comes up with. But in the middle of the song comes a chord that we may all be a bit familiar with, it's what gave birth to Rage classic "Wake Up". "Auto Logic" steely opening tears its way into your ears and everything that follows it delivers in true Rage form. Morello really shines with a searing solo and a neat bass/guitar interplay creates a funky interlude. The final unreleased demo track "The Narrows" also gave birth to "Fist Full of Steel" as the guitar whine form each song emulate each other almost perfectly.
So then what is the final verdict? Well my first answer is if you don't have this album and are a fan of music then go pick this album up in any form that you can get it in. That being said, if you do have this album already then is it worth it for the live track, the demos of songs that are known, and the unreleased demos? Well that all depends; the unreleased stuff is great in its own right but at points it seems to come packing a bit of hip-hop cheese and might be taken a bit less seriously then the self-titled debut. I can see why they were left on the cutting room floor but at the same time it's a still a great joy to have these tracks. The decision ultimately comes down to you, do you technically want to pay for what equals five unreleased tracks. Or are you content with this classic as is? Either choice that you make you should still be happy as just to have this album is a joy within its self.
Key Tracks: "Darkness of Greed (Demo)", "Mindset's a Threat (Demo)", "Auto Logic (Demo)"
Artists With Similar Fire: Audioslave / One Day as A Lion / System of a Down
Rage Against The Machine Website
Rage Against The Machine Facebook
Legacy Recordings
-Reviewed by Christopher Tahy

Latest posts by Christopher Tahy
(see all)