Purling Hiss


Water On Mars
Drag City Records [2013]



Fire Note Says: Purling Hiss proves rock is alive in well on the streets of Philadelphia.
Album Review: Purling Hiss is a Philadelphia band that melds together the aggressiveness of the Stooges and Comets on Fire, with the somewhat poppier side of J Mascis and Dinosaur Jr, and sprinkles it with the pop sensibilities of the currently underrated Lemonheads. On their third album, Water on Mars, (their first as an actual band, and not just a solo project of guitarist Mike Polizze) the band delivers a perfectly balanced distillation of all of those influences, and have crafted as fine of a guitar album as you are bound to hear this year.
Lead off track "Lolita" is 4:27 of grunge fury, a hailstorm of squealing guitars and screeching vocals. It gets your attention right off the bat, and then the band proceeds to hold it for the rest of the 33 minutes that they have you. The band then shifts gears slightly on "Mercury Retrograde", another stunner that comes off as Dinosaur Jr with Evan Dando as the singer or better yet, The Lemonheads with J on guitar. It's heavy jangle pop, with roaring guitars and a sing along chorus. "Rat Race" is more of a perfect blend of the two sides of the band, hard grunge meets jangly pop. The whole record is really well balanced. Of the 9 songs on the record, 3 of them are super heavy, 3 are more jangly and poppy, and the other 3 bridge that gap perfectly, but it's all mixed up to create a remarkable flow.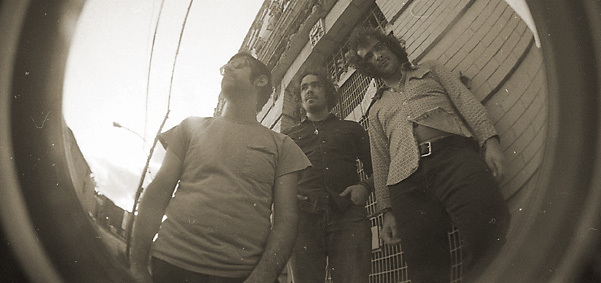 At 7:10, "Water on Mars" is a fully realized heavy psych/grunge freak-out. It's a pummeling assault on the ears, jackhammer drums, a throbbing bass, and screaming fuzzy wah-wah guitars that sound like Jimi Hendrix at Woodstock. The band follows that track up, and ends the record with "Mary Bumble Bee" a sweet pop song that ends the record on a positive note, but also serves to calm you down and give you a breather, it's like a glass of ice cold lemonade after cutting the lawn in July.
Purling Hiss is another band (like Big Dick) that I almost dismissed based on the name alone. Yet I was immediately glad I didn't after hearing the first few seconds of the first song. This is a really cool record, and one that you are going to want to keep playing. Rock isn't dead folks, it's living in Philadelphia, and it goes by the name Purling Hiss.
Key Tracks: "Water on Mars", "Lolita", "She Calms"
Artists With Similar Fire: Comets on Fire / Dinosaur Jr. / The Lemonheads
Purling Hiss Website
Purling Hiss Facebook
Drag City Records
-Reviewed by Kevin Poindexter

Latest posts by Kevin Poindexter
(see all)