Psychic Ills


One Track Mind
Sacred Bones Records [2013]



Fire Note Says: Psychic Ills' One Track Mind might be too honest for its own good.
Album Review: I've always had a liking toward the psychedelic music genre and enjoy searching out which artist can create the biggest noise wall, which can have the best acid influenced freak-out, if any can create the influential psych sounds of yesteryear, or can a new plateau be found in the ever growing quest of mind expanding music. For NYC's Psychic Ills that might be a hard question to answer. It seems they've tried everything from the drones of Mirror Eye (2009), to guitar fuzz freak outs like Spaceman 3 with noise walls and the spacey beyond. Their new long player, One Track Mind, seems to struggle finding its footing on this ever growing psych rock monolith.
Album opener, "One More Time" contains hooky guitar bends and lackadaisical chord strums that waft in the half awake, stoney, disregarded vocals that are prominent on the entire album. I don't mean to nag too much on this but it seems that every song here has this construct with mind-hooky bends. The album goes through this psych, stone, drone, rinse, repeat for what seems to be a better 75% of the album. "See You There" goes for a psych swagger mood with heavy driving bass and a one note guitar string that throbs in and out. It does set the mood but also borders on repetitive especially during a 5 a minute song.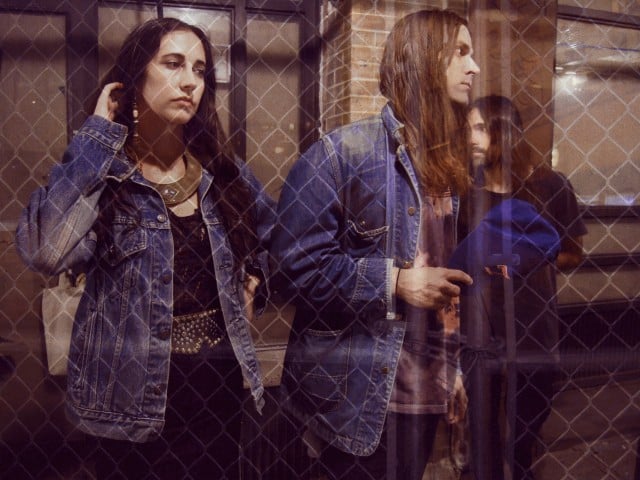 "Might Take A While" has some clever sing along backing vocals but still cannot break the mold and take a risk, something that I would have really liked to see. "Depot" goes for a straightforward stalking prey vibe with low guitar fuzz grumble and a string twinkle breaks into the chorus. "City Sun" brightens up the albums pace a bit with simple strums and harmonica that go a long way and adds some variety.
A bit of an odd duck, "Western Metaphor", almost sounds like it could be an Interpol Turn On The Bright Lights (2002) era b-side. It's a 5 minute instrumental that seems to blend right into the background. Now I don't always need to be engaged by the music at hand but as I said before a risk or surprise could really liven up the experience here. Final track, "Drop Out" echoes and reverbs its way into your ears that ends with a solid guitar solo.
I'm sad to say that after multiple listens it was still hard for me to totally connect to this record. Of course there are Psychic Ills fans out there and I believe that they will still enjoy One Track Mind because of its similar qualities to their previous work. With its musical repetition, long song lengths, and low risk level this album failed to make a lasting impression on me but still might turn out to more of a grower. I will end with this – there doesn't always need to be bells and whistles to make a great listening experience (as too many can even hamper it at times) but the key is that sometimes even failed risks can still become appreciated but Psychic Ills just need to take more of them in the first place.
Key Tracks: "One More Time", "City Sun" "Drop Out"
Artists With Similar Fire: Moon Duo / Wooden Shjips / White Hills
Psychic Ills Website
Psychic Ills Facebook
Sacred Bones Records
-Reviewed by Christopher Tahy

Latest posts by Christopher Tahy
(see all)