Pissed Jeans


Shallow
Sub Pop Records [2014]



Fire Note Says: Shallow shows where the wallow rock all started.
Album Review: Sub Pop Records has had two important reissues this year with the releases of the Sleater Kinney box set Start Together and the pre-Shins band Flake Music's When You Land Here, It's Time To Return. Sub Pop chose to bring out one more reissue before years end, Pissed Jeans' Shallow. Pissed Jeans is an unlikely band that comes from an unlikely location, Allentown, PA. Front man Matt Korvette (real name: Kosloff) is the Dr. Jekyll and Mr. Hyde of drudgery. A modern day paper pusher that holds down a "corporate insurance gig" only to take the mic as Korvette to spew his raunchy, dirge sludge-the paradox is intoxicating.
Originally being released in 05, Shallow is a beautiful, jagged, raw mess. A self-described pile of mud and glass ripping through the speakers, Shallow's bitch rock tendencies don't push Korvette off as a whiner, but more of a bored, fed up motherfucker. Starter "I'm Sick" grabs you by the ear and rips them apart. The drums stay fairly constant, guitars shred and crank feedback all while Korvette pukes up "I'm dehydrated/ I've got diarrhea/ I can't keep my food down/ My sinuses are clogged." Just as their most recent release, 2013's Honeys, had a more structural fuck rock induced continuity, Shallow shows those nods with my favorite three song group "Closet Marine," "I Broke My Own Heart," and "Little Sorrell." All spewing the blood, piss, shit, and cum referenced earlier on Shallow, Korvette slurs are the instruments blur. One particular nod that made me happy was the boredom of "I Broke My Own Heart." Raunchy Birthday Party blues guitars play as Korvette wails in the style of an disinterested Frank Black.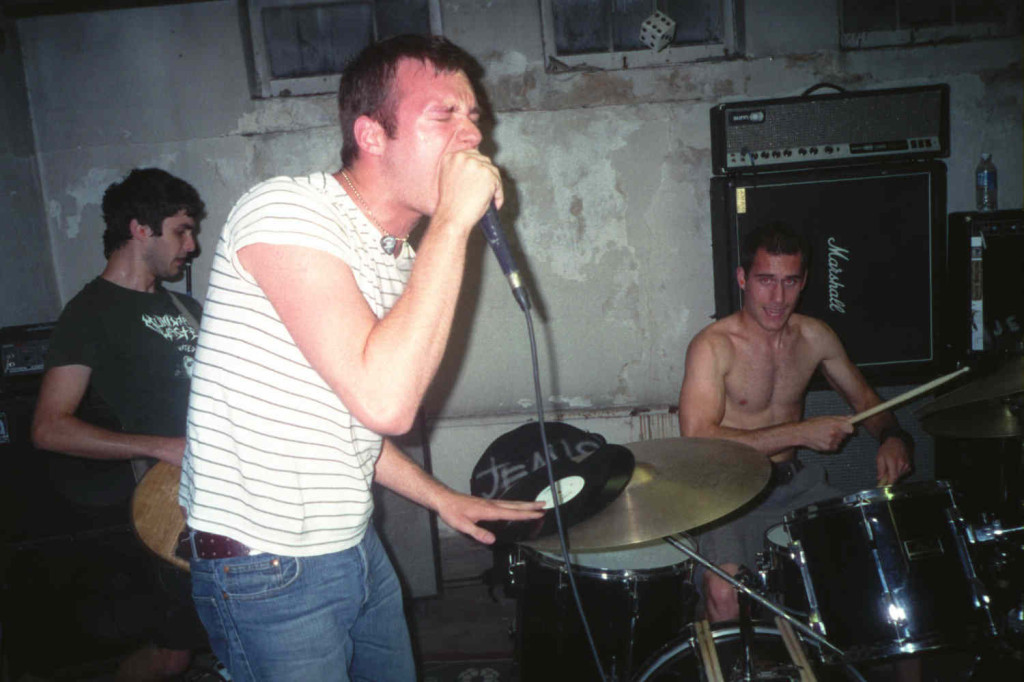 While I always appreciate bonus material, the two tracks "Throbbing Organ" and "Night Minutes" didn't do much for me. But, it's no reason to fully disregard the album. Pissed Jeans Shallow isn't for everyone. Korvette is a bat-shit crazy superman that enters the telephone booth only to emerge with white shirt, black tie, and black pants. But, when there's a mic and amps the warm distortion burns at 10. Korvette and Co are ordained in the church of fuck all. For fans looking for the fuzz of Mudhoney, the nut busting antics of The Jesus Lizard, and the raw power of METZ – do yourself a favor and see where it all began.
Key Tracks: "Closet Marine" / "I Broke My Own Heart" / "Little Sorrell"
Artists With Similar Fire: The Jesus Lizard / Metz / Clockcleaner

Pissed Jeans Website
Pissed Jeans Facebook
Sub Pop Records
-Reviewed by Christopher Tahy

Latest posts by Christopher Tahy
(see all)