Phish


Fuego
JEMP Records [2014]



Fire Note Says: Phish return with the laidback, quirky Fuego.
Album Review: Jam bands are a kind of love 'em or hate 'em proposition—at least on the surface. The term is so loose that it doesn't really mean anything, signifying only that a band likes to improvise and stretch songs out when playing live, and (maybe) that they cross genre boundaries. As the go-to example of "modern jam band," Phish have predictably acquired a double-sided reputation—they're a transcendent live experience with a solid (if different and somewhat spotty) studio catalog, and they're a bunch of weird hippies who write songs with dumb lyrics and have a tendency to wank around on their instruments way too long. You know which camp you belong to. I tend towards the former, but I'm probably the closest thing to a middle ground as you're likely to find: I like them a lot most of the time, but I'm not an obsessive who follows them on tour or knows their discography inside and out.
But as I've already noted, studio Phish is a different experience than live, and even though these tracks were debuted live last October (at their Halloween show, in place of their usual "musical costume" routine of covering an entire album by another band), this is studio Phish we're talking about. The band's last studio effort, 2009's Joy, was a triumphant return from retirement that highlighted the band's songwriting and playing chops but did so without being overly flashy. Fuego continues that trend, but with a few more left turns thrown in, and it also accomplishes the trick of feeling a bit more representative of the live experience than Joy. Produced by veteran studio wizard Bob Ezrin (Pink Floyd, Alice Cooper, Peter Gabriel, etc.), Fuego emphasizes the band's musical interplay and their eclecticism, showcasing the band's ability to operate in multiple genres (sometimes at the same time).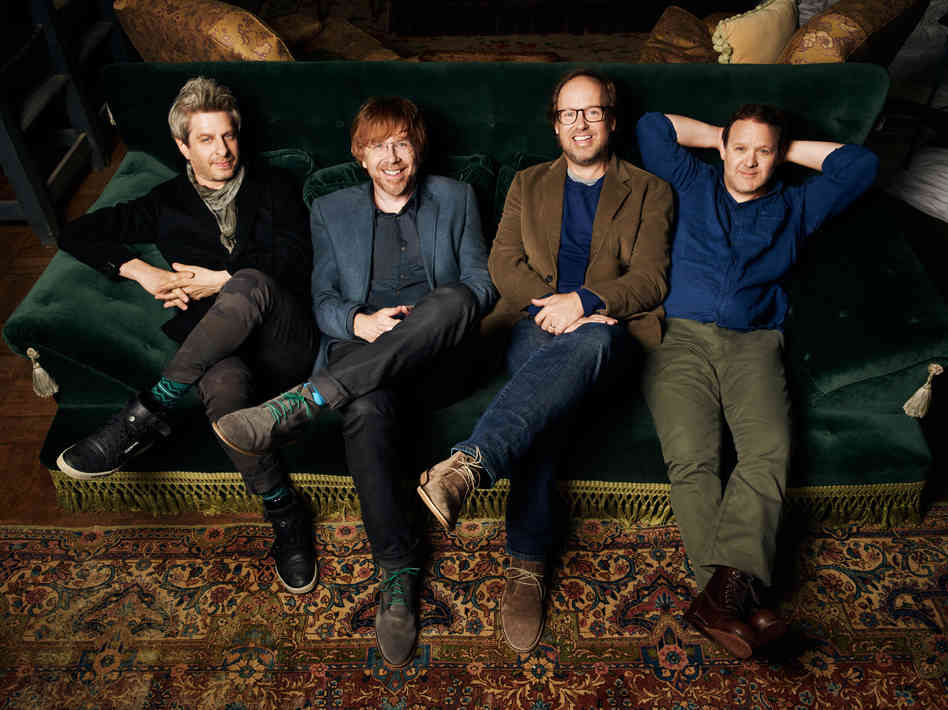 The band's pop-rock sensibilities are fully represented, whether it's on the shimmering, harmony-drenched "Waiting All Night" or the upbeat, piano-heavy power pop of "Devotion to a Dream." Things get a little funkier on "The Line," which alternates between the snaky, Latin-tinged verses and the understatedly optimistic chorus. The band's penchant for stretching things out is on display on the back half of "The Line," as well as on some of the more prog-like tracks, such as "Winterqueen" and the epic nine-minute title track, which opens the album with some trademark oddball lyrics ("Some days it's just not worth gnawing through the straps / Freak out and throw stuff, world's greatest dad / Read a little book about Vlad the Impaler… Vlad the Impaler… Vlad the Impaler…"). Other highlights include "Halfway to the Moon," which contains some nice back-and-forth singing from Page McConnell and Trey Anastasio, and the jazzy, slow-burning closer "Wingsuit." Things can get a little too weird at times (see the experimental pseudo-hip-hop "Wombat"), but for the most part Ezrin and the band give the tracks a classic rock sound that suits them well—not too many studio tricks, just a nice, even sound that puts the music front and center.
Fuego was largely written as a band, emerging from all four members playing together and developing ideas from jam sessions. It's an idea that seems like a no-brainer for a band like this, but surprisingly the final product—even at almost an hour in length—doesn't seem over-long or meandering. It goes to show that even a "jam band" can show a little discipline, and when paired with a good producer the results can be more accessible than one might think. Fans of the band will most likely enjoy Fuego (as much as they can enjoy a studio Phish album), but if you wrote Phish off years ago or are just now dipping into the band's vast body of work, Fuego just might be able to convince you of the band's merits, or at the very least shed some light on why those legions of phans keep coming back for more.
Key Tracks: "The Line" / "Waiting All Night" / "Fuego"
Artists With Similar Fire: Dispatch / Grateful Dead / Frank Zappa

Phish Website
Phish Facebook

-Reviewed by Simon Workman

Latest posts by Simon Workman
(see all)