Reigning Sound


Shattered
Merge Records [2014]


Fire Note Says: Reigning Sound fill the heart with lots of soul.
Album Review: Reigning Sound could have probably been huge as the band is fronted by Memphis garage punk legend Greg Cartwright (The Oblivians, Detroit Cobras, Compulsive Gamblers). Their debut was released in 2001 on Sympathy for the Record Industry which should have been able to ride their label mates, The White Stripes, surging coattails to a wider audience. That never really happened even though the band plays a very cool mix of pop hooks and possesses a nice balance of classic R&B and good old rock. Since their debut, they have released albums on hip labels like Goner Records, In The Red and Telstar plus have had recording help from the likes of Jay Reatard, been produced by Dan Auerbach (The Black Keys) and opened for The Hives.
With that kind of resume I bet there are some readers wondering how they have missed Reigning Sound. Greg Cartwright has been the constant as he has had a revolving door on the other members in the group. Shattered though thrives as it features a more steady crew with longtime keyboardist Dave Amels, who joined the band seven years ago when Reigning Sound recorded an album with former Shangri-Las lead singer Mary Weiss. The rest of the group goes back three years with Mike Catanese, Benny Trokan, and Mikey Post which played with Amels in the Brooklyn soul group The Jay Vons. This quality musicianship comes through here as every track feels and sounds professional grade.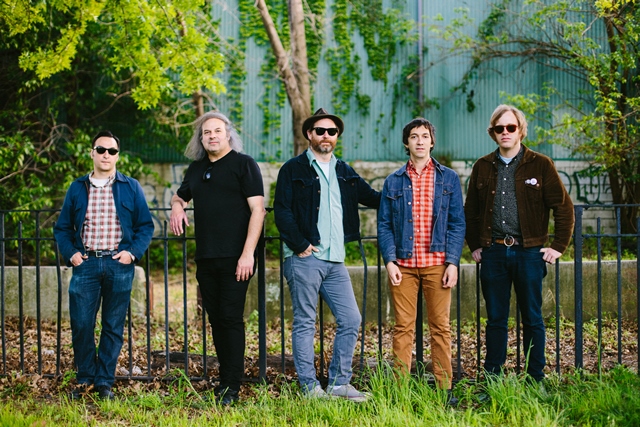 Shattered is an album that may not connect immediately because Cartwright sways heavier into the soul here with a much lighter rock undertone. For some, that may not be the perfect balance they have come to expect from Reigning Sound but this record comes after a five-year hiatus and Cartwright dealing with the death of family and friends (including his very close bandmate Jay Reatard). You can hear this thoughtfulness in his lyrics on the soulful tunes "Falling Rain" and "If You Gotta Leave" where Cartwright sings "there will be a whole lot of pain, and it ain't the end" that also has a slower folk background to it.
Reigning Sound easily gets in your head on Shattered as the song "In My Dreams" has a very Black Keys Brothers type vibe and groove going on while "Once More" has the spirit of Otis Redding running through it. Everything about Shattered screams quality soul rock music as Reigning Sound prove their veteran playing status with their flawless execution while you can tell the album was recorded at Daptone's Brooklyn studio. Reigning Sound may not still have the same exciting appeal to the youth like their early years but this is a record that should reach and grab a bunch of new fans because if you are looking for a record full of heart, Shattered's strong pulse will make the soul stronger.
Key Tracks: "Never Coming Home " / "Falling Rain" / "In My Dreams"
Artists With Similar Fire: The Fleshtones / Elvis Costello / The Black Keys
Reigning Sound Facebook
Merge Records
– Reviewed by Christopher Anthony

Latest posts by Christopher Anthony
(see all)