Paramore


Paramore
Fueled By Ramen Records [2013]



Fire Note Says: With new sounds, well-known rants, and heartfelt anthems, Paramore's new album shows both growth and familiarity.
Album Review: With their fourth studio album, Paramore is all grown up. Self-titled Paramore, the new album has less angst and more rock, but is not without the familiar rants, raves, and speed that we all love about the band. It's a long album, with 17 tracks, and plays up and down throughout like a chapter book with several breaks and interludes in between.
Paramore begins with a couple of fast rock songs. "Fast in My Car" introduces a different sound to the Paramore resume, but definitely is quick to win an alternative rock-lover over with its uniquely Paramore attitude, declaring in the lyrics "we just want to have fun." The next song, "Now," has a similar beat, pairing fast lyrics with a slower chorus, it sounds more like Paramore than the first.
"Grow Up" is a bit slower, but keeps pace with the beat of the first two songs. It's a life anthem, introducing what becomes a reoccurring theme of the album, that "some of us have to grow up sometimes." The next song is another anthem. "Day Dreaming" starts slow and ends fast, creating a nighttime, road trip feel. It leads to an interlude track, ending the first part of the album.
At various points in the album, a ukulele accompanies a happy, sing-songy interlude track. They're short, creating chapters between the songs. "Moving On (Interlude)" is the first. It proceeds one of the album's best tracks "Ain't it Fun." It's a different song, using rhythm and flow unlike the first part of the album. The song's different parts blend together to convey a message of growing up, creating a rant that chants, "don't go cryin', to your momma, 'cause your on your own, in the real world."
With "Part II," Paramore presents a reflective, somber sound that lingers throughout the next couple of tracks. "Part II" is slower, using electronic beats at the beginning, it gets faster and louder as it progresses. The song's lyrics rant, almost scream, in the chorus about shame and messy situations, explaining "I question, every human who won't look in my eyes." The next song, "Last Hope," has similar reflective, somber themes, starting off with "I don't even know myself at all, I thought I would be happy, by now." In contrast to "Part II," "Last Hope" is acoustic and soft, conveying a feeling of contentment.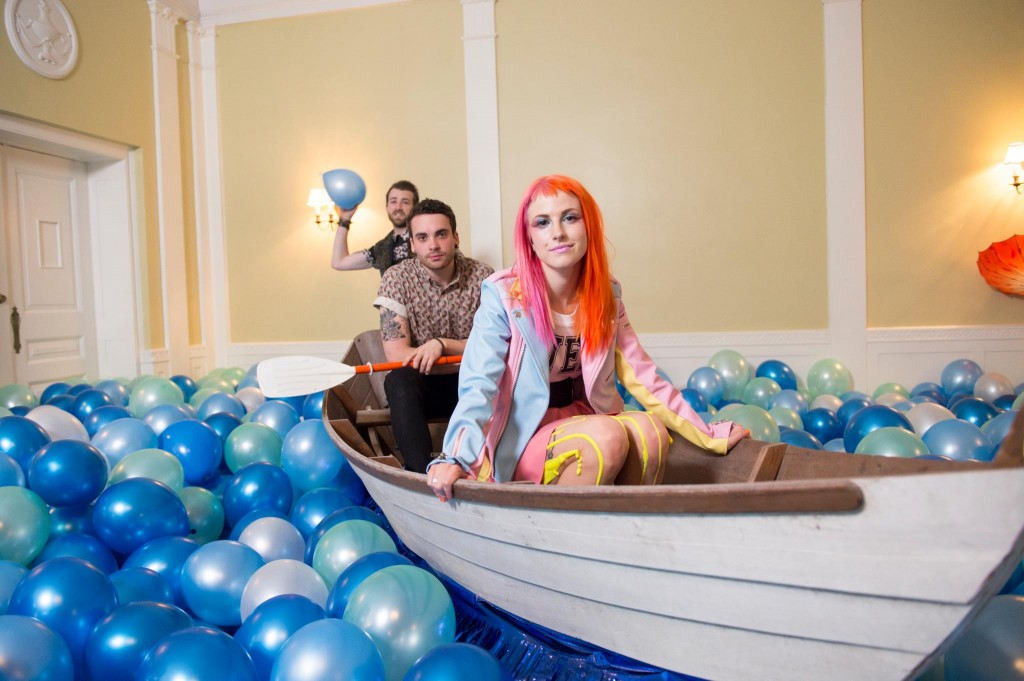 Bringing the album back to an upbeat, rock sound, "Still Into You" is about a relationship going well. It's consistent in beat, with the lyrics singing about a relationship that is, also consistent. It's followed by "Ankle Biter," another track that is typical Paramore in sound. It's fast, loud, and possibly the most punk rock song on the album. "Ankle Biter" is also angry, ranting "someday you're going to be the only one you got."
"Holiday (Interlude)" is another short track accompanied by a ukulele. Its lyrics are happy, quirky, and tongue-in-cheek. It's followed by "Proof," a fast rock song that is another rant, this time about being dedicated to a relationship.
Introducing a new theme of empathy and loss, the album slows back down with "Hate to See Your Heart Break." It builds suspense, creating a dramatic ending that blends into "(One of Those) Crazy Girls." It's fast, taking back the rants and raves of previous songs, but keeping the somber, sad theme. The chorus, in contrast, is fast and punk rock, the lyrics almost trying to convince the singer "I'm not one of those crazy girls."
The album's last interlude, "I'm Not Angry Anymore (Interlude)," is again happy, accompanied by a ukulele, and uses sarcastic lyrics. It's a prologue to "Be Alone," another fast, loud rock anthem. It's a love song about being loners together, explaining "you could be alone with me."
Closing with "Future," Paramore infuses sounds of progressive rock as it blends acoustics with slow, quiet lyrics. It's almost as if "Future" is not in any hurry to end the album. It lasts for almost eight minutes.
With new sounds, well-known rants, and heartfelt anthems, Paramore's fourth studio album shows both growth and familiarity. Like the last song on Paramore, "Future," you won't want the album to end.
Key Tracks: "Fast in My Car", "Ain't it Fun", "Ankle Biters"
Artists With Similar Fire: 30 Seconds to Mars / Eisley / No Doubt
Paramore Website
Paramore Facebook
Fueled By Ramen Records
-Reviewed by Michelle Morgan