Offa Rex


The Queen Of Hearts
Nonesuch Records [2017]


Fire Note Says: Vocalist and multi-instrumentalist Olivia Chaney is a true gem on this new collaboration with The Decemberists.
Album Review: Anyone who's followed Portland, Oregon's The Decemberists over the last decade or more has likely suspected that an album like this collaboration with British folk artist Olivia Chaney would one day come to be. Looking all the way back to 2006's The Crane Wife and 2009's The Hazards of Love, the band's interest in old school British folk from the 18th century that had been rediscovered in the hazy 60's psychedelic folk movement that defined bands like The Fairfield Convention (feat. Sandy Denny & Richard Thompson), Steeleye Span, and Jethro Tull, influencing a host of traditional folk artists and even progressive rockers.
While it's always a pleasure to hear more music from The Decemberists – and enjoying their return to more traditional song formats last time out, on 2015's What a Terrible World, What a Beautiful World, I'm especially hopeful that they'll continue with their incisive, yet accessible indie pop/rock some day soon – but besides their recovery of some beautiful old British folk songs, the real discovery here was vocalist and multi-instrumentalist Olivia Chaney. Chaney's lovely voice is really the newest discovery here, at times echoing the voice of Joni Mitchell, and Denny's work on similar material five decades earlier, at times floating on the eloquent time-honored melodies, at others carrying the weight of haunted melancholy. She's the genuine article, and someone to watch for.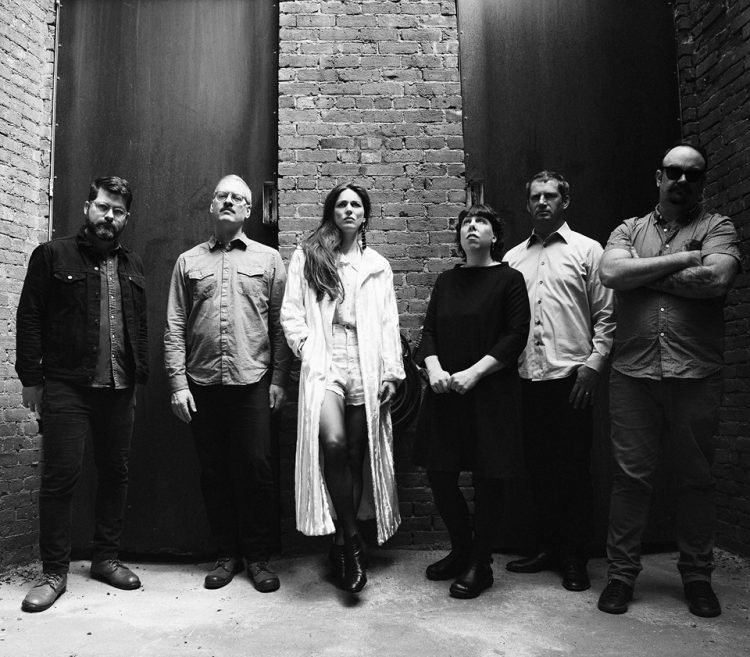 The Decemberists have of course been preparing themselves musically for this task since their inception, leader & composer Colin Meloy's long interest in this music being well established. Meloy sings lead on a version of "Blackleg Miner" which more or less follows the arrangement by Steeleye Span, and the set closing "To Make You Stay," which feels more modern due to the meandering jam band guitars and somewhat dissonant rhythm section. The presence of guitarist Chris Funk and Jenny Conlee is heard throughout, Funk's country style guitar solo on "Flash Company" and Conlee's accordion guides us through the instrumental jig that is "Constant Billy (Oddington)/I'll Go Enlist (Shelborne)."
But it really is the voice of Chaney that will attract the most attention as you listen, on the harpsichord lead title track, and on the acoustic ballad of "Willio O' Winsbury" and even the electric guitar hum of "The Old Churchyard." The haunted quality mentioned earlier is best heard on her take of the song best associated with Roberta Flack, as she lingers over the familiar melody of "The First Time Ever I Saw Your Face." Not familiar enough with the original "Sheepcrook and Black Dog," to know if the echo of Led Zeppelin is meant as a joke, but either way it stands out as the album's least successful blend of the new and the old to these ears, which suggests that the rest of this 11 track disc is very good.
Key Tracks: "The Queen of Hearts" / "Blackleg Miner" / "Flash Company"
Artists With Similar Fire: Fairfield Convention / Steeleye Span / The Decemberists
Offa Rex Website
The Decemberists Facebook
Olivia Chaney Facebook
Nonesuch Records
– Reviewed by Brian Q. Newcomb
Latest posts by Brian Q. Newcomb
(see all)