Murder By Death


Big Dark Love
Bloodshot Records [2015]



Fire Note Says: Murder By Death stay true to the title with the looming Big Dark Love.
Album Review: Without even hearing the background story on Murder By Death's seventh record, Big Dark Love, you just know the band is coming at you like a tsunami wave with its stadium size title. The complexities of those three words are the focus here, as its ten songs are sewn together by the theme of love looked at by a slightly altered lens. This big cloud of a theme is not necessary new for the Bloomington, Indiana band as you might remember that 2012's excellent Bitter Drink, Bitter Moon already started this drive with more focused ideas and a slower musical tempo. Big Dark Love takes that move one step farther.
This brooding style is made for singer/guitarist Adam Turla's voice as he has a Johnny Cash swagger that mixes with the modern flare sounding baritone of the National's Matt Berninger. He is a born story teller and that is Big Dark Love's strength when he expresses lines like "I shot an arrow into the dark; I shot an arrow that missed its mark" which is delivered with a pain you can feel. This record is like a smoky bar lounge as each track covers you with its slow momentum and just builds. The title track is a perfect example of this, as the entire band chimes in with the almost chant "Let me in" followed by Turla's thunderous "me and my big dark love" as the song has a big instrument finish. Elsewhere on "Send Me Home," Murder By Death once again hits the theme and begs to be sent away but admits "I can't go, but I can't go on" without someone else making the decision.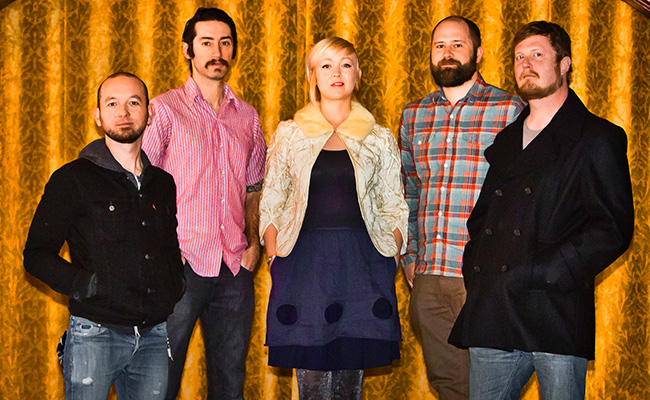 Big Dark Love is not a complete somber affair as tracks like "The Last Thing" is a rollicking banjo drivin' number complete with acoustic guitar and a beat happy tambourine. On "Natural Pearl," the band offers an interesting mix of beats with pedal steel that makes the number more upbeat, even though by design it feels like it should be slower. I do think that Big Dark Love stays a little long in the middle with a similar sound throughout its tracks. Murder By Death try to balance the theme with a certain style here that for the most part works but ultimately held it back for me from its complete potential.
If you are a Murder By Death fan, you absolutely will enjoy Big Dark Love. The musicianship is top notch, the lyrics will pull you in and the delivery can be intense. The bigger production and instruments took me several listens to get into because it is another shift for the group. Also, after previously seeing this band live, I can guarantee that these songs will take an entire new life on the stage. Big Dark Love has plenty of moments of greatness, right down to the epic sounding closer "Hunted." It is one of those records that may not bring a bigger audience immediately to Murder By Death but has true potential if these songs land in the right spot in another media. At the very least, Big Dark Love shows an incredibly mature band in Murder By Death that not only provides a solid listen but shows no signs of this talented group slowing down.
Key Tracks: "I Shot An Arrow" / "Big Dark Love" / "Hunted"
Artists With Similar Fire: The Afghan Whigs / The National / Nick Cave

Murder By Death Website
Murder By Death Facebook
Bloodshot Records
– Reviewed by Christopher Anthony

Latest posts by Christopher Anthony
(see all)