Me First And The Gimme Gimmes


Are We Not Men? We Are Diva!
Fat Wreck Chords [2014]



Fire Note Says: Me First are back with 12 diva delights!
Album Review: To some, it may be a surprise that Me First and the Gimme Gimmes have been cranking out cover records since their 1997 debut Have A Ball. That album stands out to me because I remember the video for their take on Loggins and Messina's "Danny's Song" which still is one of my favorite covers with attitude out there. If you have not experienced Me First before then it is important to know that the Gimme Gimmes consist of crooner Spike Slawson, Lagwagon frontman Joey Cape on guitar, Foo Fighter Chris Shiflett on the other guitar, Lagwagon drummer Dave Raun making the beats, and of course Fat Wreck main man/NOFX frontman Fat Mike on bass. A supergroup punk karaoke group is exactly what they are and there is not anyone better.
2014 brings the band back after 8 years off and like before, this record follows a theme. Are We Not Men? We Are Diva! is a punk salute to divas like Cher, Madonna and Streisand to name a few. Like always, these covers are quick, tidy and lots of fun. The other important thing going on here is that many of the songs this round are guilty pleasures. "Straight Up" from Paula Abdul is classic 80's pop goodness especially when the boys put down the instruments, sing and add some hand claps to the mix. "Beautiful" from Christina Aguilera starts with a scorching guitar intro before the swoon of Slawson's vocals take over and give the song a sincere push. It also contains some catchy dueling vocals in its last third which makes it one of the best tracks of the bunch. Other stand outs are Lady Gaga's "Speechless" that borrows the intro from the Dead Boys 1977 track "Sonic Reducer" and the punk rendition and lead off track "I Will Survive" which lets the Gimmes loose.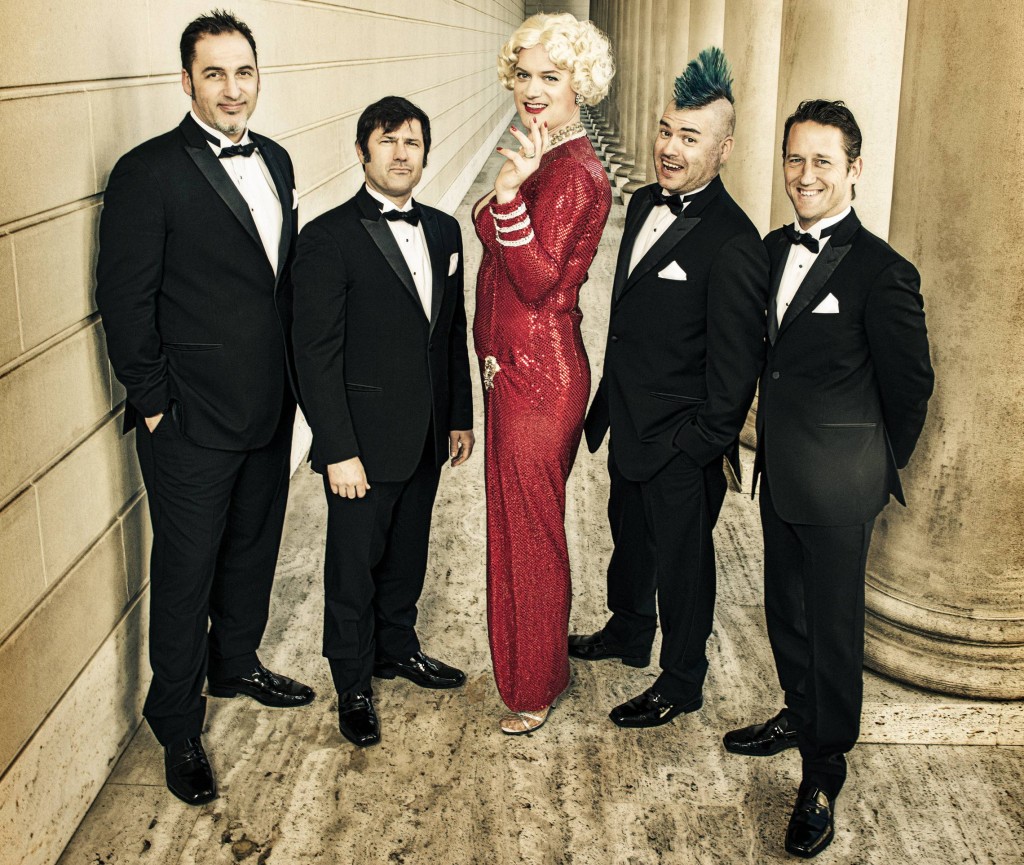 Not everything on We Are Diva! works so well like Culture Club's "Karma Chameleon," The Carpenters "Top of the World" and Whitney Houston's "I Will Always Love You" which all just suffer from being too simple and having sections that don't work that well punkified. This is typically the case of Me First albums and just like before, is easy to skip over and move on. This type of record is not for everyone but if you are up for just hanging out and kicking on some quality laid back fun punk music – Are We Not Men? We Are Diva! is definitely a conversation piece. It also is the perfect vice to sneak in some of your guilty pleasures with your coolest friends and they won't even catch it!
Key Tracks: "Straight Up" / "Beautiful" / "Speechless"
Artists With Similar Fire: No Use For A Name / The Mr. T Experience / Lagwagon

Me First And The Gimme Gimmes Website
Fat Wreck Chords
– Reviewed by Christopher Anthony

Latest posts by Christopher Anthony
(see all)