Los Lobos


Disconnected In New York City
429 Records [2013]



Fire Note Says: Los Lobos celebrate 40 years with their excellent new live record.
Album Review: What do you do on your band's 40th anniversary, especially if on your 20th you released an exhaustive two-disc collection of your early triumphs that includes many of your most popular recordings (Just Another Band from East L.A.)? Well, if you're Los Lobos you go to NYC and record a live album that proves you're still making great music, not just some flash from the past on the revival circuit of one-hit-wonders playing casinos and county fairs.
Of course, Los Lobos came out of the punk and roots music revival that introduced us to bands like X and The Blasters. But if the secret to success is to do one thing well, and keep doing it for as long as you can hold people's interest, then Los Lobos is the exception to prove the rule. Sure they loved the early rock & roll influences and still plant one foot there – hell, their biggest "hit" has been a cover of Ritchie Valens' "La Bamba," – but, they never turned their backs on the traditional Mexican folk music that surrounded them around their neighborhood. In fact they sharpened their musical chops playing cumbia and nortenos at weddings and dances, and that presence enlivens their performances to this day.
It's that sharpened ear for a rich textured sound, and the ability to mix a more experimental musical sound with pop flavor and more than enough instrumental prowess to arouse a crowd that Los Lobos deliver throughout "Disconnected." All that is at play to great effect in the Spanish language "Venganza," which roots itself in a strong rock guitar riff hook. Then they slide just as easily into the acoustic folk of "Tin Can Trust," that builds on solid baritone sax groove, before evolving into an eclectic electric guitar solo reminiscent of Richard Thompson.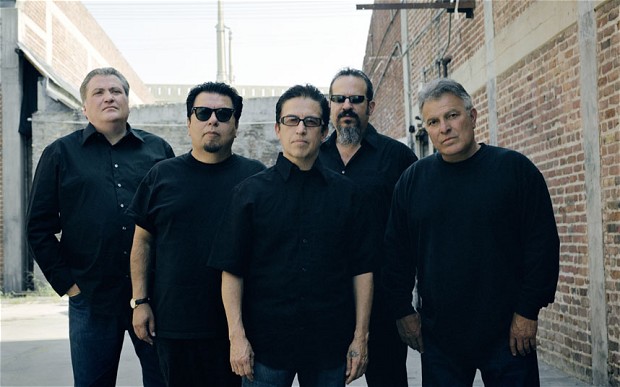 David Hidalgo, Cesar Rosas, Louie Perez, and Conrad Lozano –the original band members – have never forgotten their roots, as evidenced when they pick up acoustic guitars and accordions and lean back on Steve Berlin's saxophone groove for "Maria Christina." On "Chuco's Cambia" which relies more on the Latin percussive presence of newer members "Bugs" Gonzalez, or the languid "Malaque" where expanded solos form Hidalgo and Rosas (and Berlin on flute), stretch their musical horizons even further.
While they neglected their first airplay success, the T Bone Burnett produced/co-authored "Shakin' Shakin' Shakes," the did revisit some of their older fan favorites: their cover of Pop Staples' "The Neighborhood," "Tears of God," and "Oh Yeah" were mixed in here and there. "Set Me Free (Rosa Lee)" and, of course, "La Bamba" mixed in with a bit of "Good Lovin'" provide the satisfying rock concert climax.
(Notably, there are four more tracks available exclusively at Amazon – "Hardest Time" "Bertha," the band's Grateful Dead cover, "Don't Worry Baby," and "Mas Y Mas," which were unavailable for this review.)
Key Tracks: "The Neighborhood," "La Venganza De Los Pelados," "La Bamba/Good Lovin'"
Artists With Similar Fire: Dave Alvin / The Blasters / Alejandro Escovedo
Los Lobos Website
Los Lobos Facebook
429 Records
– Reviewed by Brian Q. Newcomb
Latest posts by Brian Q. Newcomb
(see all)