Kurt Vile


Wakin On A Pretty Daze
Matador Records [2013]



Fire Note Says: Kurt Vile throws caution to the wind and creatively expands his sound on the excellent Wakin On A Pretty Daze.
Album Review: Kurt Vile's new fifth long player, Wakin On A Pretty Daze, is easily his boldest and most confident release to date. The 69-minute double album is timeless, breathtaking, mesmerizing, expansive and a true musical marathon. Each track is its own story, its own complex perspective, and its own summer breeze that all combine for a record that allows the listener to drift off with its swooning guitars and relaxed vocals.
Right out of the gate Vile challenges your ears with the over 9 minute "Wakin On A Pretty Day" that sets the tone for Wakin On A Pretty Daze as Vile sings "You can say I've been most all around; But I'm going nowhere; Don't worry bout a thing". The track has this really vacation summer breeze appeal with its laid back delivery, yeah yeah yeahs and its combo of acoustic and electric guitars. You simply forget that it is over 9 minutes long. The next track, "KV Crimes", kicks up the volume a bit as it uses a repetitive classic rock riff that makes you take notice while Vile's slightly hazy vocal delivery gives the track its cool swagger. Kurt Vile repeats this stylistic approach over and over and lets each song just carry you somewhere else. All the way to the closing track, "Goldtone", this happens and is even emphasized on the 10 minute song which begins with a very 70's country warmth before its complementing guitar starts to take over and builds right up to its climatic ending. It is a jam that really could go on forever and the best part is you don't even care.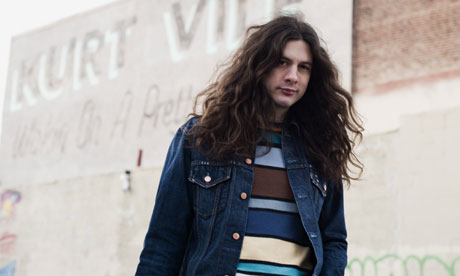 Wakin On A Pretty Daze is a much easier undertaking than I ever thought. Admittedly I do not usually prefer records with multiple long tracks. I can respect a record of this nature but it typically is not something I would go back to very much. Kurt Vile breaks that mentality as Wakin On A Pretty Daze never feels endless and takes his fuller sound that started on 2011's Smoke Ring For My Halo even farther. It has such a comfort zone for its listener that you get lost in the music. What I really liked is that the tracks here work both independent of each other and then like a solid album track list should. For me this helps break the record down into easier portions and does not punish you for stopping and coming back later.
Kurt Vile has made another memorable record here that will sound just as good at the end of the year and then the next and the next. Vile seems like a man that is creatively hitting a high point and clearly after Wakin On A Pretty Daze hopefully he has no reason to slow down because his output just keeps getting better!
Key Tracks: "Wakin On A Pretty Day", "Girl Called Alex", "Shame Chamber"
Artists With Similar Fire: Thurston Moore / Luna / Neil Young
Kurt Vile Website
Kurt Vile Facebook
Matador Records
-Reviewed by Christopher Anthony

Latest posts by Christopher Anthony
(see all)