Charles Bradley


Victim Of Love
Dunham/Daptone Records [2013]



Fire Note Says: Charles Bradley's Victim Of Love is a love letter to the music, fans, and the golden age soul greats who inspired him.
Album Review: This album gives off such a cool retro vibe that the only other element to enhance the experience would be the clean hiss of a turntable needle running through grooves-both figuratively and literally. Charles Bradley "The Screaming Eagle Of Soul" has quite a back story; running away from home as a young teen, living homeless on the streets and in subway cars, and also moonlighting as a James Brown impersonator under the name "Black Velvet". Well it's been said that the greatest hardships and heartache mold the truest types of soul singers. Charles Bradley's second LP, Victim Of Love has no difficulty showing that. On his Dunham/Daptone release, Victim Of Love shake off the melancholy provided by his 2011 debut No Time For Dreaming and replaces it with more of an emphasis on being thankful.
While keeping his influences close to his music, Bradley still feels like a natural progression of this retro revival spun by the likes of Sharon Jones, Booker T. Jones, and Lee Fields. Bradley picks up where the early 70's Temptations left off, only to forge into a psych tinged soul direction. From the weirdly warbled, fuzzed out noise amalgamation of "Confusion" to the sultry tremolo drenched echoes of "Hurricane" there is something here for everyone. Album opener, "Strictly Reserved For You" gives that glassy smooth strum that funk easily identifies with. This is a track that could easily be related to Al Green's smooth stylings. For the title track, Bradley goes for a stripped down approach with accompanied acoustic. The James Brown esque vocal inflections breakdown the story of a desperate, yet grateful man who's been struck by love. Instrumental, "Dusty Blue" gives the Menahan Street Band a chance to shine brighter. The track provides one of the more intense, diverse, and groovy points on the album. Brass blares, a flamenco guitar keeps it catchy, there is a fantastic flute flutter in there and in Booker T.'s more recent styling's some beautiful organ leads are laid down. "Crying In The Chapel" shows there's still room for a soulful sadness. This love betrayal ends up being one of the most beautiful tracks on the album. Final track, and an equal dead ringer for beauty, "Through The Storm" is an out pouring of love from a gracious man. A fantastic guitar intro that favors the careful R&B trilling styles of Hendrix's "Little Wing".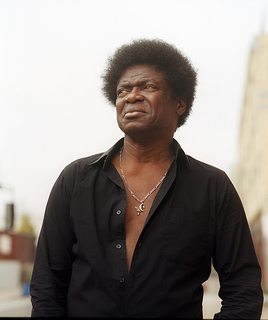 Charles Bradley's Victim of Love is an honest to goodness, no bones about it soul record. Bradley's deep from the diaphragm, guttural rasp provides the perfect juxtaposition between band, back singers, and the like. The influences fall into place nicely without feeling like a direct copy. This is a record to get acquainted with as each spin provides more and more!
Key Tracks: "Victim of Love", "Dusty Blues", "Crying in The Chapel"
Artists With Similar Fire: James Brown / Lee Fields / Booker T. and The MG's
Charles Bradley Website
Charles Bradley Facebook
Daptone Records
-Reviewed by Christopher Tahy

Latest posts by Christopher Tahy
(see all)