King's X – Three Sides of One 2023 Tour, With Sound & Shape and Dressed in Electric, The King of Clubs, Columbus, OH, September 9, 2023
Saturday night's sold-out club show with King's X, the Texas-based rock power trio now in their 43rd year, proved a shining example of the unique chemistry and versatility that sets this band apart from others like it. With two hard rock trios opening the show, it was striking how very different King's X is from other traditional power trios where the lead singer & guitarist defines the sound and tone, and the rhythm section – each with a flashy drummer doing their best to drive the songs forward while providing ballast and balance – were given a secondary role.
With the original trio now in its 5th decade of playing together—drummer Jerry Gaskill, bassist and lead vocalist Dug Pinnick, and guitarist Ty Tabor, who also occasionally sings lead while all three sing harmony vocals throughout—King's X brings a very different, quite egalitarian approach to the stage, with the three musicians' instruments all present in the band's sound and ethos. At the end of the show, Gaskill and Tabor stood on either side of Pinnick, who told the attentive crowd that at this point, they are family, brothers: "We hate each other as much as we love each other; we might at times want to kill each other, but then we'd rush to save each other's lives."
Of course, the thing that sets this tour apart from recent years when I've caught the band in Dayton or Columbus is that in 2022 the band released their first album or original music in 16 years, Three Sides of One, the first time they were primed to play new material live in a long, long time. And they did not disappoint.
The three casually took the stage a few minutes after the appointed hour to loud applause and some in the crowd's loud chants for "Jerry," a phenomenon that dates back to Gaskill's return to the stage in 2015 after double by-pass surgery following a heart attack. But the guy doesn't play the drums like someone who's taking it easy or safe, he hits that snare and the sound just snaps. After a quick count of four on his drumsticks, the band laid down the thick, sticky rhythm of "Groove Machine," and Pinnock wasn't kidding when he sang, "Let's go for a ride, c'mon/Music's a funky, funky thing, can you feel it?"
And there in lies part of the secret sauce that makes King's X a world class musical act even though they've never had a long-lasting radio hit after 13 albums; this solid hard rock band which has shared the stage with metal, grunge, and alternative rock acts over the years, incorporates a unique blend of musical influences, that includes funk, Gospel, and blues into their musical mix of influences. "Groove Machine" benefits from Pinnick's deep, soulful howl of a voice, and gritty low in bassline. Later in the song, Tabor takes a solo that adds blistering rock energy over the funk, and then Gaskill adds a variety of tight, tom runs, a full exhibition of the three sides that make up this union of like minds.
Shifting gears a bit, Tabor launched into the faster near-metal vibe of "The World Around Me," from the band's 1992 self-titled album, which introduced the rich three part harmony vocals that you rarely hear from heavier rock bands. After a brief pause to deal with Gaskill's monitors, they kicked into the daunting rhythmic grind of "Pillow," the first of two from '94's Dogman. Of course, the crowd egged on by Pinnick dove in to sing the chorus, but musically it was instructive that all three players had a distinctive role to play in the band's overall sound, not competing for dominance but in tightly bound together yet each instrument recognizable. That unique blend was more obvious on the slow, bluesy vamp that is "Flies and Blue Skies," where everyone seems content to leave room for the ominous groove to breathe, Pinnick and Tabor singing harmony vocals at times, and then Tabor taking the first screaming guitar lead of the evening, taking his Stratocaster out for a smoking run.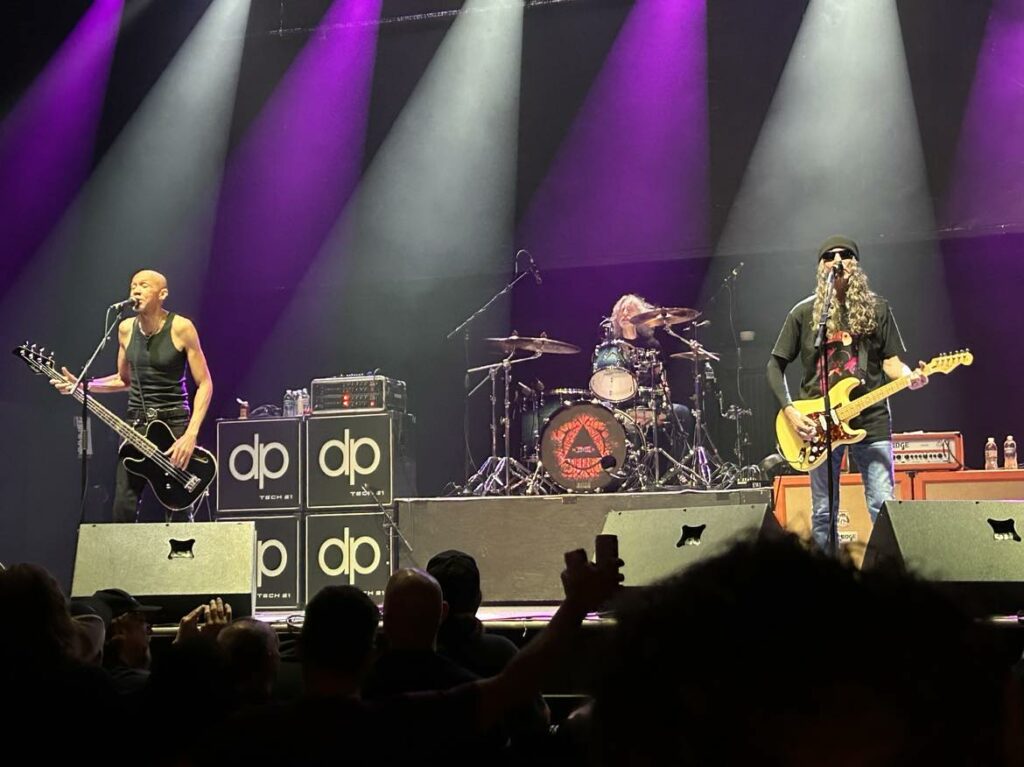 "Vegetable," a more obscure track, brought it all back together in a more intense jam, ushered in by Pinnick's brief bass intro. The punchy, muscular feel was amplified by Gaskill's driving drums, Pinnick sang about giving it all away, eliciting an exasperated scream, and Tabor took us out for another rockin' guitar solo, as the rhythms settled into a heated simmer. Five songs in and about to switch over to songs from the new album, Pinnick offered up one of his mini sermonettes over the final refrains, confirming that "there's a lot of shit going down," but "there's more of us, than there is of them," so we should "hang in there," and "keep loving each other."
As the band was striking up the opening of "All God's Children," some in the crowd yelled out to Pinnick who responded, "I'm old and deaf, but I can hear you." Tabor began finger picking the song's intro, before hitting the big, guitar riffs that define the rocker, which was Tabor's first lead vocal, with Gaskill providing backing harmonies, and Pinnick taking a bass lead solo during the outro. Going on to six straight songs from the new album, they kicked into the grinding heavy rocker that is "Flood, Pt. 1," which featured more three-part harmony vocals, and ended with a hard, dry stop. They followed that with the Gospel sounding vocal melody of "Nothing but the Truth," one of those hot jams that breathes with possibilities, until Tabor steps up with a burning guitar solo full of emotion and musical heft."Give it Up" is another rocker built on a fast, rock guitar riff, and a lyric that seems to echo the sentiment of the earlier "Vegetable." Pinnick switched to 12-string bass for "Let It Rain," and they followed that catchy vocal chorus with "Festival," a fast rocker with Tabor again on lead vocal.
It was fun and refreshing to hear the band dig into half-a-dozen tracks from the new album, but all the more thrilling to hear Pinnick dig into the recognizable bass intro to the classic song "Pray," which admonishes folk who claim to be religious to pray for those who are less convinced; telling folk more or less that if you're going to talk the talk, you need to walk the walk. Again, a funky Gospel music undertone takes hold, and the audience again dives in to sing the chorus, as it should be.
Dipping in to the new album from one more final track, they delivered up "Watcher," again with Tabor on lead vocal, with backing assists from Gaskill. Then they closed out the 75 minute set with a long-time crowd favorite from the Faith, Hope, Love ('90) album, "We Were Born to Be Loved," with it's long, complicated rhythmic ending that brings Tabor and Pinnick together at the stage's edge, smiling with ease as they repeat the challenging stuttering tempo of nimble guitar and bass runs timed to bounce of the kinetic drum patterns of Gaskill. It's always a muscular, musical highlight, and it ended the set proper.
The band wasted little time, returning quickly to play four encore selections, beginning with the grungy rirr-rock of "Dogman," from the album of the same name. Pinnick was playful on the song's funky sing-song, almost nursery rhyme verses, playfully adding in a line asking if "marijuana" is legal in Ohio. Then they went all the way back to the band's first album, Out of the Silent Planet for "King," which has a classic rock vibe and plenty of great three-part harmony vocals.
That was followed by "A Box," with its telling lyric, that "there is no room inside a box," perhaps a declaration of independence for a band that has fought limiting labels and categories for much of its career. Some put the band in a religious box, some tried to tag them as this musical genre or that, but this is a band that refuses to live within the small confines of someone else's imagination. King's X is what King's X does; you can come along for the ride, and it's a hell of a ride, but try to nail it down to one idea or purpose and they slip away. Oh, and Tabor took one fine long, soulful guitar solo, pulling out all the stops, displaying a lot of his most impressive fret work, and that fun, pinky on the volume knob thing that he no doubt learned back when they played with Phil Keaggy.
Then, we'd reached the final act of the evening. Pinnick and Tabor gave each other a quick nod, and turned their mics out to face the crowd, then began playing their time tested song "Goldilox," which the crowd has been singing back to them for decades now, shouting out the repeated refrain: "I'd like to know your name; and I must know who you are, Yeah!!!" In the past the band would chime in and finish out the song, but on this night they left it to the crowd, and all was good. As they waved in departure, Pinnick announced, "We've been together for 43 years, and we'll stay together for the kids."
Latest posts by Brian Q. Newcomb
(see all)