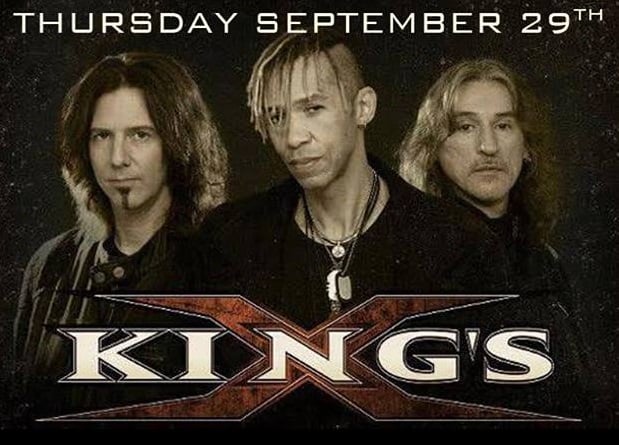 King's X (w/ King of Spades): Rockstar Pro Arena, Dayton, Ohio – September 29, 2016
On a cool and gloomy Fall night, about 300 people filled the Rockstar Pro Arena, just east of downtown Dayton, to hear the world-class hard rock trio and recording artists, King's x offer up a 90+ minute show that spanned their long career. Now, the "Pro Arena" is best known for its weekly wrestling shows, so while it's an unusual venue for a rock show, I was immediately grateful that it didn't smell like a locker room as I had expected. Instead, it was a large warehouse-like space, with a serviceable stage and PA & lighting system set up on one end… it worked as well as any other venue, as King's X professionalism and experience transcended the externals.
Now, King's X, you're thinking… Does this band matter? They sound familiar but what have they done lately… if they were any good you'd have heard of them, right? Well King's X is a band that defies easy description and categories. Sure, they're heavy, some would say metal, you'd have to be heavy to get invited to perform on the KISS Kruise of the Karibbean this November. They've also been called "prog rock," even though they've never pulled the full-on Rush sci-fi treatment; they've been called "grunge" even though their musicianship far exceeds that slacker approach.
Founded in 1980, the same three guys have recorded 12 studio albums, the latest XV was released on InsideOut Music in 2008, and have opened on tours with AC/DC, Pearl Jam and others, performing at the Woodstock '94 festival. While they are a solid power trio – guitar, bass & drums – they also serve up heavy doses of funk, blues, and soul in the mix, a thoroughly satisfying mix of genres and interests that have drawn comparisons to Jimi Hendrix, Living Colour, and the Beatles for their three part vocal harmonies and catchy pop hooks on earlier albums, like 1990's Faith Hope Love.
That high level of musicality was on exhibit Thursday night right from the start as the trio took the stage and settled deeply into "Groove Machine," a lush funky musical space that comes from three guys who've been playing together for 36 years. "The World Around Me," a straight ahead rocker that displayed their remarkable vocal harmonies, followed, and then as the band played the opening instrumental introduction to "Pillow," the audience began singing the chorus of the somewhat obscure track off the Dogman album, and you could see vocalist/bassist Dug Pinnock's delight on his face as he took in the audience's display of engagement.
As that song ended with drummer Jerry Gaskill punctuating the rhythm, the audience spontaneously began calling out his name, "Jerry, Jerry, Jerry," no doubt in gratitude for his return to health and energy after his recovery from a couple heart attacks in 2012 and '14. But if ailments and age (Pinnick is in his mid-60's, the others in their 50's) would lead one to expect they were in decline, nothing about their performance exhibited such weakness, especially Gaskill's muscular drumming throughout the night.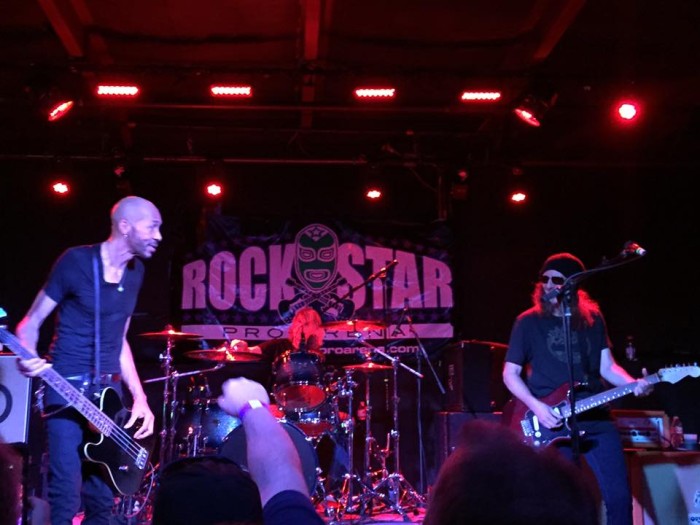 "Flies and Blue Skies," a slower blues, found guitarist Ty Tabor taking his first real solo of the night, but then with the funky bass intro to "Vegetable" the band launched into their first extended jam of the night, at times Tabor's guitar recalling the tone of ZZ Top's Billy Gibbons. "(Thinking and Wondering) What I'm Gonna Do" found the band locked into their consistently tight grooves, followed by "Everybody Knows a Little Bit of Something, which found Pinnick and Tabor trading riffs as they launched another moving jam, and their somewhat amazing vocal harmonies and the audience again was eager to sing along, something continued into one of the evening's strongest performances, "A Box." Here, Tabor played a long solo that included a remarkable volume knob technique that I first heard by guitar hero Phil Keaggy, once of the Northeast Ohio band Glass Harp, who the King's X guys played with back in the early 80s.
The gospel feel of "Over My Head" recalled an old African American spiritual in a much heavier rock context, and the audience sing-along continued through the catchier pop melody of "Over and Over," which offered Gaskill a drum break that was as musical as it was powerful. The band's more progressive leanings rose to the fore with "Pleiades," with Tabor sing the lead vocal for a change, and they closed the set with a strong performance of "We Were Born to Be Loved," a fast paced rocker that was the highlight (albeit among many) of the night. The fast paced rocker exhibited many of the band's strengths, their strong vocals, amazing instrumental prowess, and the punchy funk of the stutter rhythm as the song approaches its climax.
All in all it was an great set, drawing from their entire history, if perhaps avoiding some of the more "popular" songs from Faith Hope Love, reveling in many of the band's strengths and nurturing a warm connection with they obviously adoring fans. They returned to play a solid encore of "Go Tell Somebody," "Dogman," and "King," before turning their microphones toward the crowd and then sang the entire lyric for "Goldilox." A fitting close for a fun night of rock & roll.
There were a couple local metal bands that started the night, but the band touring with King's X as opener was a quartet from Hawaii, the bluesy hard rock of Kings of Spade. Led by the soulful R&B vocals of Kasi Nunes, who wears a bright pink/red Mohawk, and blues guitarist Jesse Savio, the band mixed aggressive rock & blues with the strong vocal at the songs' center. Nunes & Co. let the music speak for itself in their 45 minute set, and it was impressive throughout, but she did introduce the penultimate song, "Strange Bird" with her coming out story, then encouraged the crowd to "walk to the beat of their own drum." She then closed out the set with a tribute to one of her musical heroes, offering up a strong rendition of Janis Joplin's "Piece of My Heart."
-Reviewed by Brian Q. Newcomb
Latest posts by Brian Q. Newcomb
(see all)