Jupe Jupe


Crooked Kisses
Self-Released [2014]



Fire Note Says: Jupe Jupe's third album Crooked Kisses has a lot to offer.
Album Review:
Jupe Jupe has released their third album since 2010 with Crooked Kisses. The band is as indie as it can get, self-publishing this record. They hail from Seattle, WA; members include My Young (vocals/synthesizer), Bryan Manzo (guitar), Patrick Partington (guitar), and Jarrod Arbini (drums). These guys are veterans of the indie music scene, having played in a number of bands prior to Jupe Jupe. Their chops are evident on Crooked Kisses, as the high points of the album do indeed soar.
The one-two punch of opening tracks "Pieces of You" and "Never Ask Why" find Jupe Jupe hitting their peak. "Pieces of You" had a short, quiet intro that bursts with loud guitar and synthesizer. Young's vocal delivery is silky smooth with a slight edge to it. The chorus continues with the New Wave feel; "Pieces of You" sounds like Depeche Mode just got back from a fun day at the beach, mixing together sunny and dark flavors. "Never Ask Why" follows up with a moodier but no less energetic feel. The subdued verses make way for a chorus that pays off with its electric approach. After giving Crooked Kisses a few listens this was the track that stayed with me the longest.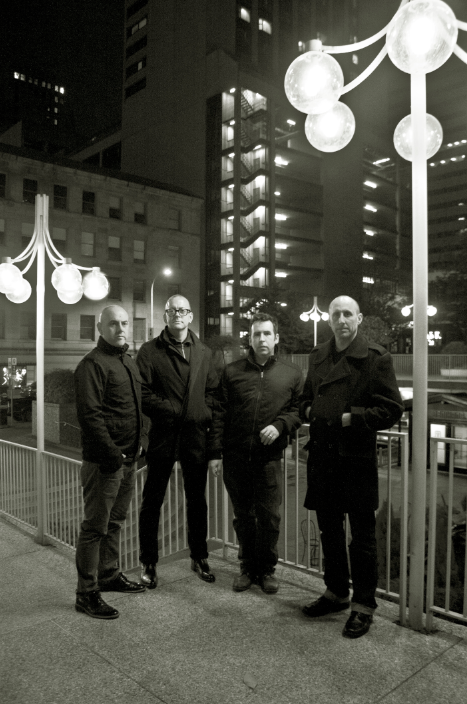 Other standouts include the previously-featured Friday Fire Track "Vicariously," with its playful lyrics, and "All The Things We Made." This latter track has some of the better lyrics on Crooked Kisses, with lines like "The world is still the same/So sacred so profane." As the chorus waxes philosophically guitars and synthesizer keep the beat propelled forward. On both of these tracks the music comes together so seamlessly that it's easy to miss all of the little details that make this happen.
Crooked Kisses has a lot going for it. I found that even the tracks I didn't immediately enjoy, like "Love To Watch You Fall," eventually found their way to my heart. Some of the album seemed to drag a bit as a result (I didn't feel "Autumn October" but appreciated the attempt at a way to ramp up the second half of the album). Jupe Jupe is for those of you Depeche Mode fans, or for fans of 80's New Wave in general, performed by professional musicians.
Key Tracks: "Never Ask Why," "All The Things We Made," "Pieces of You"
Artists With Similar Fire: Atlas Genius / Twin Shadow / Depeche Mode

Jupe Jupe Website
Jupe Jupe Facebook
-Reviewed by Matthew Heiner

Latest posts by Matthew Heiner
(see all)