John Doe


The Westerner
Cool Rock Records [2016]

Fire Note Says: John Doe leans back on the roots that first inspired him.
Album Review: The L.A. punk band X arguably cast a longer shadow than one would expect based on record sales and airplay singles. Made up of John Doe (vocals/bass), Exene Cervenka (vocals), Billy Zoom (guitar) and D.J. Bonebrake, X delivered a mix of punk, roots music and rockabilly. They produced two influential albums, Los Angeles and Wild Gift, and along with fellow LA bands like The Blasters, Los Lobos, and The Go-Go's laid the groundwork for a host of West Coast punk and roots rock bands to follow, appearing in the noted 80's documentary on LA's proto-punk scene, The Decline of Western Civilization.
X came apart in the late 80's with 6 albums to their credit, had a reunion in '93 to record Hey Zeus!, and have managed a number of reunion tours including the most recent in 2015, after Zoom was diagnosed with cancer (he responded well to treatments) So throughout the last two decades, Doe has recorded numerous solo albums, played with a few other bands (The Knitters and The Flesh Eaters), and in his spare time pursued acting roles, performing in movies like "Great Balls of Fire!," the story of Jerry Lee Lewis, "Road House," "Wyatt Earp," and "Boogie Nights."
On his own recordings, Doe has pursued the more rootsy side of his musical inspirations, and that's made evident right from the start on his latest effort, The Westerner. Left to his own devices, Doe returns to the familiar roots music that has been his solace since the beginning. The disc opens with his take on the traditional train/blues song, "Get on Board." While X was notorious for its loud raucous sound, much of The Westerner finds Doe in a quieter, more plaintive state, as on the stripped back "Sunlight," and the traditional piano ballad, "A Little Help."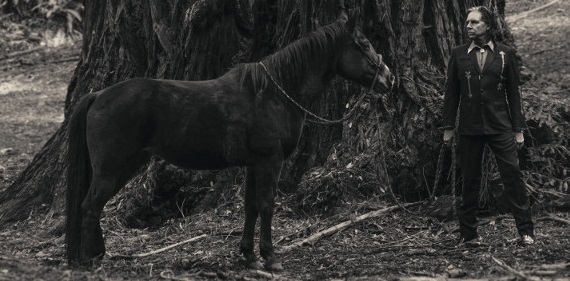 "My Darling, Blue Skies" and "Go Baby Go" are songs that Doe could have easily written for X, the first with a rockabilly backbeat, the second a rocker with Blondie's Debbie Harry singing harmony on the chorus. Maybe it's all those years with X, but Doe sounds his best when singing harmony with a woman, and here he's joined on a couple tracks by Cindy Wasserman, and by Chan Marshall on "A Little Help."
While Cervenka, his ex-wife as well as band-mate, doesn't sing with Doe on The Westerner, Doe does her song "Alone In Arizona" and one they co-wrote, "Drink of Water," the first a fragile folk ballad, the second a rocker fit for X. But, on the whole, this feels like a more personal record for Doe, especially on the quieter folk-leaning numbers, like "Sweet Reward," the country ballad "The Other Shoe" and the set closing "Rising Sun," sung over a simple electric guitar and subtle rhythm track that builds to a triumphant conclusion.
Doe dedicates the disc to Michael Blake, and includes this quote from Blake on the inside cover, "In the end, inspiration is everything." John Doe has been an inspiration, and here leans back on the roots that first inspired him. The result is an effort that continues to inspire and entertain.
Key Tracks: "Get On Board" / "Go Baby Go" / "Sweet Reward"
Artists With Similar Fire: X / Dave & Phil Alvin (The Blasters) / Los Lobos
John Doe Website
John Doe Facebook
Cool Rock Records
– Reviewed by Brian Q. Newcomb
Latest posts by Brian Q. Newcomb
(see all)