Heath Green And The Makeshifters


Heath Green And The Makeshifters
Alive Naturalsound Records [2017]


Fire Note Says: The gritty, soulful delivery of Heath Green and his Makeshifters, deliver well crafted, blues rock performances so ecstatic that they transcend the form.
Album Review: Heath Green is a veteran of the Birmingham, Alabama music scene, plying his soulful musical inclinations in a variety of bar bands, developing a reputation for strong songwriting and commanding live performances along the way. Coming together with the Makeshifters – longtime musical partner and drummer Jason Lucia and two from Alabama indie band Through the Sparks, Greg Slamen on bass and guitarist Jody Nelson – Green has found the right vehicle to carry his songs to the world on this band debut.
From the classic guitar rock riffs to Green's bluesy vocals it takes no time to sort out this band's influences, Faces, Humble Pie, and the like, a mix of blues and soulful rock that has marked southern bands dating back to rock & roll's beginnings. Green's delivery varies from heart-rending blues crier to churchified gospel shouter, recalling the likes of Joe Cocker, Leon Russell, and a young, energetic Bob Seger, back before his music was tamed for use in truck commercials. While Green's tendency to shout and rant and howl would topple a less seasoned rhythm section, Slamen and Lucia create a strong foundation, while Nelson's fiery guitar soloing matches Green's passion with 4 alarm pyrotechnics that can impress for speed and dexterity but are rooted in the very real emotional depths that come through the Green's lyrics.
Green's songs come from a deep trough of crowd-pleasing blues rockers, relying on time-honored classic rock tropes. What the basic song structures and familiar lyrical strains lack in originality, songs like "Out to the City" and "Hold On Me" connect due to the band's earnest street level delivery and Green's authentic no-holds-barred intensity. These performances enliven every obvious blues/rock cliché so that it feels like a comfortable groove with enough vitality to warrant revisiting this homey sound for 3 minutes or longer.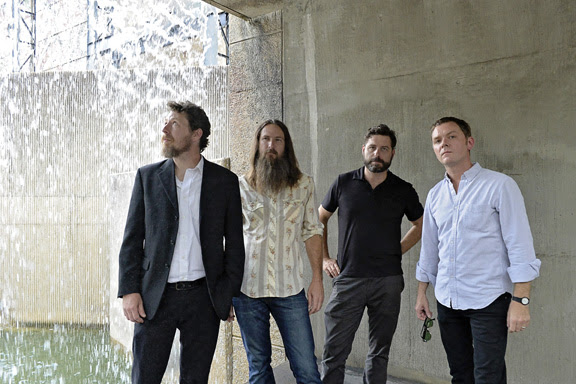 In the middle of "Secret Sisters," presumably a tribute to the Rogers' sister duo of that name, has a brief gospel break near the end, celebrating how the sisters' singing makes Green feel. But on "Ain't Got God," he takes us to straight to church, channeling an altar rail evangelist's hell-fire threat of God's wrath if you don't believe like you're supposed to. Thankfully the song is more fun than the message suggests.
For the slow blues burner, "Ain't It a Shame," Green dials things back at the front in, to set up a high-octane solo from Nelson, which compels Green to unleash his own howling yelp as the song reaches its climax. And so it goes, Green and Nelson ratcheting each other up, whether delivering slow songs that gather heat and grow in intensity like "Living On the Good Side," or crunchy rock sing-alongs like "Took Off My Head."
There's little doubt, these songs are going to sound best in their native environs, a smoking blues rock club full of sweaty revelers eager to be elevated by the gritty and soulful delivery of Green and his Makeshifters, but the recording is so well crafted, the performances so ecstatic that it transcends the limitations often associated with a studio recording's sterile environs. Alive and throbbing with the goal to reach out to listeners, these blues rockers take on a life of their own.
Key Tracks: "Secret Sisters" / "Ain't It a Shame" / "Sad Eyed Friend"
Artists With Similar Fire: Faces/ The Rolling Stones / Delaney & Bonnie and Friends

Heath Green And The Makeshifters Website
Heath Green And The Makeshifters Facebook
Alive Naturalsound Records
– Reviewed by Brian Q. Newcomb
Latest posts by Brian Q. Newcomb
(see all)