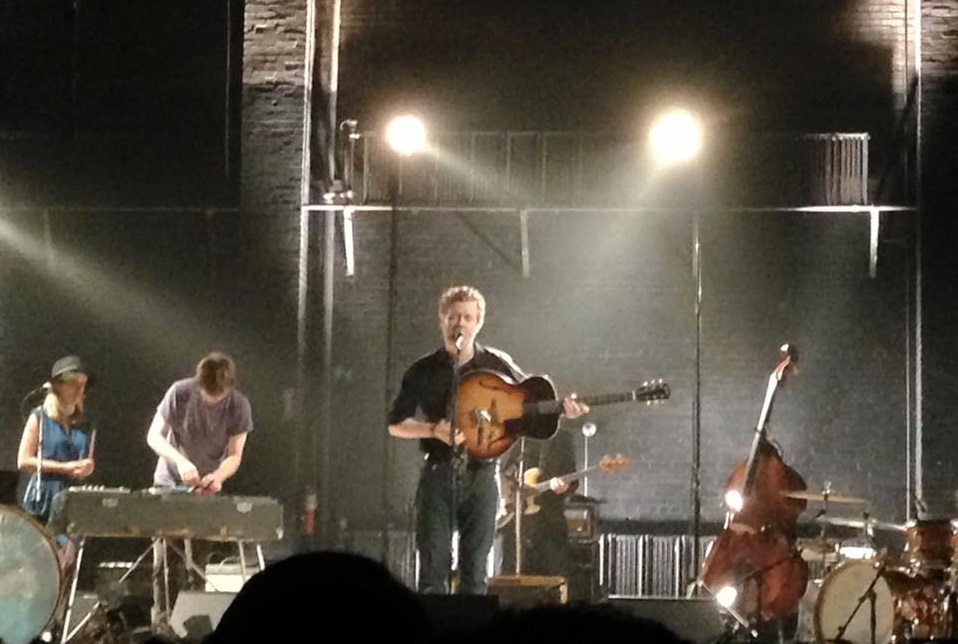 Glen Hansard: Taft Theatre, Cincinnati, Ohio – October 24, 2015
Even though Glen Hansard has an impressive resume, it still seems people are unaware of the talent he brings to the musical world. The Irish singer/songwriter/actor is most known for his Academy Award winning Best Song "Falling Slowly" that appeared in the film ONCE (2006). Hansard also starred in the film along with another musical based movie you might know – The Commitments (1991). On the music side of his career he is a member of The Frames and one half of the The Swell Season with the other ONCE star Markéta Irglová. Last night he appeared solo at the Taft theatre supporting his latest sophomore solo outing, Didn't He Ramble with one of the best audiences I have been a part of in some time.
Kicking off the show with an A cappella version of "Grace Beneath the Pines," Hansard immediately had an enthusiastic crowd following his every word. Quickly joined by his supporting nine member band – complete with keys, horns and strings, the collective launched into his rousing single "Winning Streak." Now that the opening tracks were under Hansard's belt his friendly and enjoyable interaction with the audience started, which included lots of joking and some song origin storytelling. One of those tracks was "My Little Ruin," which is about a person that always has so much going for them but then drops a self-destructing grenade on themselves. Glen then said that they care for this person so much that they brought him on tour as he peered back at the keyboard player and just smiled. This song then moved right into the ONCE standout track "When Your Mind's Made Up," which once again was greeted with a loud clapping applause.
There is no denying that Hansard is an immense live talent. He puts everything into his show that also includes destroying guitar string after guitar string with his feverish playing. The expectation going into this concert was that Hansard was going to put on a solid show but not only did his performance surpass that expectation as the songs were cyrstal clear but the crowd's excitement created an energy that was hard to beat. Hansard connected with the surge consistently and even did an improv song of "It's A Cincy Baby Thing" in response to an audience member yelling it out. The track not only received loud cheers upon its conclusion but Hansard revived the chorus several times in other songs as the night continued. It also was telling that for the 45 minute plus encore the theatre crowd stood, sang along and cheered for the remainder of the show.
Not only did we get to witness, Glen Hansard the artist Tuesday night but we also saw Glen Hansard the friend. The evening was full of gracious moments where Hansard shared the stage with others. One of those moments Glen brought up a friend of his trombone player, Curtis Fowlkes, named Napoleon Maddox that is a local beatboxer. He added his talents to "Way Back in the Way Back When," which definitely gave the song a different flavor. Later in the encore, his longtime personal friend from Ireland, Mark Dignam (now located in Pittsburg) came to the stage and performed his own song, "Tallahassee," which was great and included plenty of crowd participation. If that was not enough, My Brightest Diamond's Shara Worden was in attendance from Detroit and showed off her talents with one of her own tracks. This "we are all together" spirit driven by Hansard was completely fulfilled when he brought everyone up to the front of the stage, and I mean everyone, that included some singing contributions from behind the scenes stage hands, for an excellent A cappella version of Irish poet Brendan Behan's "The Auld Triangle" which was made famous by The Dubliners.
The Glen Hansard show confirmed several things last night. 1) A great crowd can make a good show spectacular. 2) Embracing the talent around you only makes you better. 3) Interacting with the audience is a must 4) Never forget your friends and 5) play your fingers off on every song you perform! Honestly, I have seen some really good shows this year and this one ranks right up there. It is a little surprising because I had no idea that Hansard was such the honest and sincere showman. There are still some dates left on this tour, so without a doubt if he is hitting your town – make the effort – you will walk away feeling better and that Glen is now your old friend!
Set List:
Grace Beneath the Pines (A Capella)
Winning Streak
Just to Be the One
My Little Ruin
When Your Mind's Made Up (The Frames/Swell Season Song)
Bird of Sorrow
Falling Slowly (The Swell Season song)
Return
Astral Weeks (Van Morrison cover)
Paying My Way
Improv (It's A Cincy Baby Thing)
Back Broke (The Swell Season song)
Love Don't Leave Me Waiting McCormack's Wall
Lowly Deserter
Didn't He Ramble
Way Back in the Way Back When (with Napoleon Maddox)
This Gift
Encore:
Say It to Me Now (The Frames song) (A Capella)
Tallahassee (Mark Dignam cover) (with Mark Dignam, a childhood friend of Glen's)
Wedding Ring
(My Brightest Diamond's Shara Worden Performance)
The Auld Triangle (Brendan Behan cover) (A Capella)
Her Mercy
Remaining Tour Dates:
November 25 Atlanta, GA Buckhead Theatre
November 27 Durham, NC Durham Performing Arts Center
November 28 Washington, DC DAR Constitution Hall
November 30 Brooklyn, NY Kings Theatre
December 1 New York, NY Beacon Theatre

Latest posts by Christopher Anthony
(see all)