Dirty Lungs


Dirty Lungs
Communicating Vessels [2014]



Fire Note Says: Dirty Lungs dig up some retro-leaning hard psych, but leave a little modern dirt.
Album Review: Dirty Lungs' self-titled LP opens strong with "I Suck in Bed," a scuzzy, raging garage rocker with a catchy wordless vocal refrain. It's so strong, in fact, that I was mentally preparing myself to be let down by the rest of the album — the tune is Nuggets-y enough to expect a whole album of songs that chase that same basic sound to diminishing returns.
Happily, I had Dirty Lungs all wrong, as the gloriously off-kilter second track makes clear. Called "All My Cats," it starts as an amiable alt-country ditty and morphs into a heavy psychedelic instrumental. Throughout the rest of the album, Dirty Lungs prove themselves dynamic and hard to pigeonhole. From song to song, the contrast between the end of one song and the start of the next is always striking. However, the production is consistent and provides a unity across the album. And at nine songs in a concise 31 minutes, all the tracks are keepers.
The most distinct thing about the album's sound is the way singer Carson Mitchell's voice is coated in reverb and mixed slightly on the low side, giving it a ghostly quality (it's also pretty hard to make out the lyrics most of the time, but the melodies come through fine). Drummer Ra-jaan Parmely has knack for catchy, surf-rock inspired beats, which enhances the psychedelic 60s vibe. Twin guitars jangle, buzz, and produce ragged solos and leads. The guitarists also know their way around a huge riff — Zeppelin and Sabbath are obvious influences — although Dirty Lungs, lacking the finesse of those groups, rarely builds an entire song around a riff. Instead, the guitar heroics pop up at opportune moments. An exception is the punkish "Dead in a Graveyard," which sounds like Sabbath played triple-time (with harmonies!). On the more psychedelic side of the spectrum is "It's All Melted," a groovy instrumental that reminds me of Syd Barrett-era Pink Floyd (think a less sinister version of "Lucifer Sam").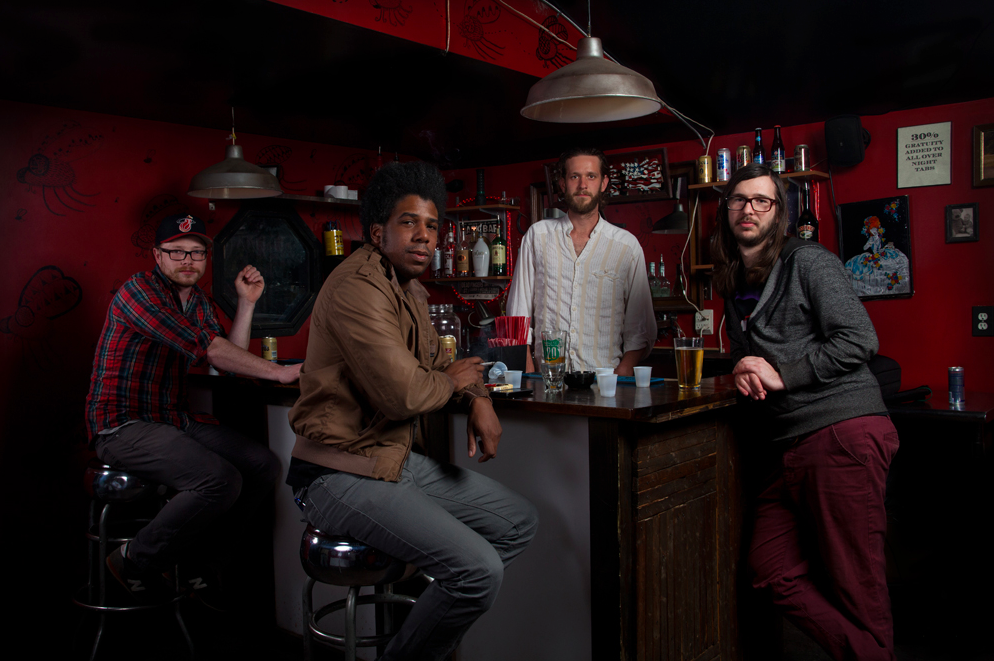 Some tracks develop in unexpected directions. For instance, "Crazy (Don't You Die)" starts as a prom slow dance based on delicate fingerpicking and hushed vocals (would fit perfectly on an episode of Twin Peaks), until drums, guitar solos, and distortion take it into power ballad territory. After three minutes, a false ending gives way to a coda of heavy riffing. The next song, "Woman," starts off as laid-back and catchy as a Mac DeMarco tune, and slowly piles on the noise and energy until it flat out rocks at the end, all while maintaining the same strummy, easy-going rhythm it started with.
Perhaps the best song of the bunch is "Don't Fucking Remind Me," a jangle-pop gem that owes more to 80s college rock than it does to the 60s and 70s influences on display elsewhere, although with its indelible melody and layered harmonies, it fits right in.
Dirty Lungs have been around in some form since 2006 and are a staple of their Birmingham, AL scene. They have a few releases under their belt, but this appears to be their first widely-available recording. As their debut-in-spirit, it's a promising introduction to a talented group with a solid sound and plenty of room to grow.
Key Tracks: "Don't Fucking Remind Me" / "Dead in a Graveyard" / "All My Cats"
Artists With Similar Fire: Parquet Courts / White Fence / Fuzz

Dirty Lungs Facebook
Communicating Vessels
– Reviewed by Dan Jircitano