Dead Wives


Buzzy Fuzzy
ObscureMe Records [2014]



Fire Note Says: Speedy Ortiz drummer steps out front with his own band, and the results are stellar!
Album Review: I am not going to pretend I have the inside scoop on cool bands; for the most part I rely on word of mouth from friends or on The Fire Note to send me stuff to listen to. I got this Dead Wives and I figured I'll get to this eventually, it's related to Speedy Ortiz, so I might dig it. From the opening note of "Honeycrunch", the first song on Buzzy Fuzzy, I was hooked, and it just kept getting better from there.
This is lo fi indie rock at its finest. If you have a soft spot for jangly, off kilter, loud, catchy rock, well then you have to hear this. I'm not kidding, find it now, thank me later. Mike Falcone happens to be the drummer for Speedy Ortiz, and between you and me, this is just as good if not better than their album. If nothing else, Falcone has a keener ear for a catchy pop song, and writing hooks that stick in your brain. Case in point "Mavis…", this one screams play me over and over. If you like that Tony Molina record, Dissed and Dismissed, and hey who doesn't, this will definitely give you a major boner. "Pharmacist" is a sloppy mess, in other words, it's absolutely perfect. I wouldn't change a thing about it. "Deity" and "Angry Swarm" are what grunge would have sounded like if instead of scraping up money to record with Jack Endino, the bands just decided to record on their own in their basements. It adds a certain level of scuzz to the mix that you just can't get in a studio., or at least couldn't in the late 80's.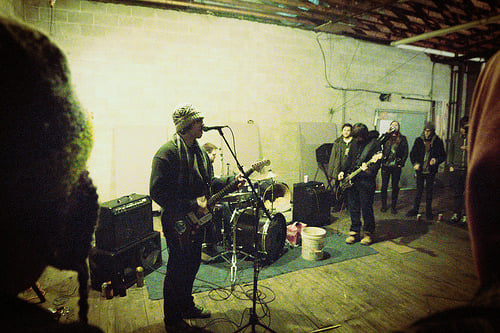 Buzzy Fuzzy is available as a download from Bandcamp, or as a cassette from ObscureMe Records. However you choose to get it is up to you, but you absolutely don't want to miss this one. It's an ep (so it's short and easily digestible) and allegedly the first installment in a "Basement Trilogy". Bring on the rest of the trilogy! I should also add that this one needs to be played at maximum volume to get the full experience.
Key Tracks: "Mavis…", "Pharmacist", "Honeycrunch"
Artists With Similar Fire: Tony Molina / Guided By Voices / Sebadoh

Dead Wives Website
Dead Wives Facebook
ObsureMe Records
– Reviewed by Kevin Poindexter

Latest posts by Kevin Poindexter
(see all)