Chromatics


Kill For Love
Italians Do It Better [2012]


Fire Note Says: Another synth driven record that works!
Album Review: Right from the opening cover of Neil Young's "Hey Hey, My My (Into The Black)" you have a good idea that the new Chromatics album Kill For Love is going to challenge, reward and challenge your ear again right up to its conclusion. As singer Ruth Radelet quiet and confidently handles the line "Rock & roll is here to stay" you know they are onto something with its creative deconstructed state that has synthesizer overlays and an independent guitar line that holds its intensity.
This leads you right into the title track which is all about desperation, romance, violence and suspense as Radelet sings, "I killed for love" and the song takes off with is rhythmic beats and pitched peaks. It is this type of stylistic song structure that Portland's Chromatics give you for the albums full one and half hour minute running time and keeps your interest right up till the end.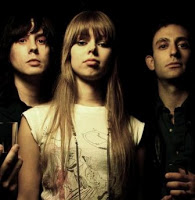 What makes Kill For Love a true "album" is the inclusion of five instrumental tracks that are more than just interludes or breaks in the action as "Broken Mirrors" runs over seven minutes. The songs at first seem like too much and bloat the record to its long running time but after several takes on this album the tracks take on their own identity and give a true depth to what the Chromatics are about.
Kill For Love is a record that you need time to inhale and just sit with. It is not an album that will grab you instantly with greatness but more of a rewarding slow burn. The Chromatics formed more than a decade ago and Kill For Love was five years in the making so this record was a true labor of love that can be heard on every song. Fans of the continued emerging retro-synth genre should automatically put Chromatics on their list while other indie fans should check out as well because Kill For Love is a solid listen all the way through!
Key Tracks: "Into The Black", "Kill For Love", "Running From The Sun"
Artists With Similar Fire: M83 / Thieves Like Us / Dan Deacon
Chromatics Website
Chromatics Facebook
Italians Do It Better
-Reviewed by Christopher Anthony

Latest posts by Christopher Anthony
(see all)