Cheatahs


Extended Plays
Wichita Recordings [2013]



Fire Note Says: Extended Plays is one of the most exciting debut records in years.
Album Review: Extended Plays, the debut album from Cheatahs, is actually a compilation of two eps that the band released last year, SANS and Coared. If Swervedriver, Ride, and Slowdive are amongst your favorite bands of all-time, as they are for me, then you simply have to get this record as soon as possible. A few years ago, The Pains of Being Pure at Heart were being held up as the torchbearers for a shoegaze revival, and as good as that band is, they never quite captured it like Cheatahs do. This is the closest thing I have heard to early Swervedriver since the first time "Duel" blew my mind through a pair of crappy headphones in college.
"The Swan" has huge guitars, a driving rhythm, and a vocal melody that could have been lifted directly from Ride's classic Nowhere lp. "Sans" is more of the same, and actually ups the ante. It's catchier than "The Swan" and is more apt to get stuck in your head. The other two songs from the SANS ep, that comprises the first half of Extended Plays are every bit as good as the first two. The second ep collected on Extended Plays, Coared, was actually released before the SANS ep, so it's a bit odd that it comes after it on this album, although it doesn't really matter, as the material is every bit as good as it's predecessor. The sound quality is just a bit rougher, though not by much, and the two eps flow together remarkably well. "Coared" is another standout track, the hook gets stuck in your brain and refuses to let go.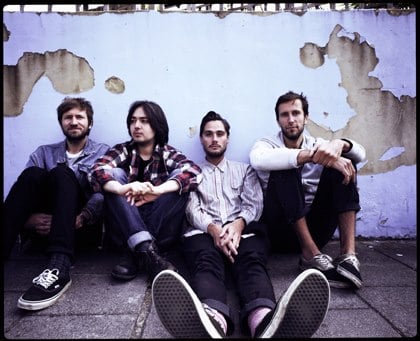 One thing keeps this record from grabbing the extra coveted half star from me and entering Headphone Approved territory. Extended Plays is less than a half hour in length, and it flys by. I feel like with a bit more experience Cheatahs, could expand their sound to encompass more than just the uptempo side of this music. Historically, the best bands in this genre of music were able to spread out and explore the slower side of this music, let the music get a little spacey, Cheatahs don't do that yet. Having said that, I fully realize that this record is actually a compilation of two previously released eps, so they weren't thinking of making a giant artistic statement when they made these records, they were releasing two quick, sharp bursts of creativity, and that's what it sounds like, and that is not a bad thing at all!
Cheatahs are a band to be excited about, they are currently gearing up for what is shaping up to be the can't miss tour of the spring, with Waaves and FIDLAR, so go see this show!
Key Tracks: "The Swan", "Sans", "Coared"
Artists With Similar Fire: Swervedriver / Ride / Slowdive
Cheatahs Website
Cheatahs Facebook
Wichita Recordings
-Reviewed by Kevin Poindexter

Latest posts by Kevin Poindexter
(see all)