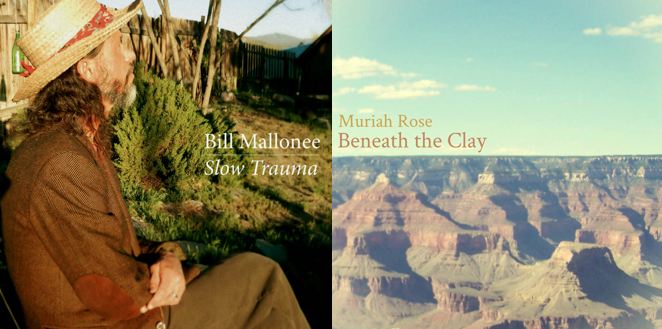 Bill Mallonee & The Big Sky Ramblers / Muriah Rose


Slow Trauma / Beneath The Clay
Self-Released [2016]

Fire Note Says: Both experience and new beginnings shine on solo records from husband and wife team Mallonee and Rose.
Album Review: Okay, let me climb up on a soapbox for a minute: Sometimes, often it seems, finding the phrase "critics' favorite" carefully tucked into a recording artist's bio is a sure sign of that acts commercial death. Such is the curse of being an artist of promise who rarely breaks through, a fact of life for more and more musicians in the current, digital age, where access to music as a free commodity has become an expected fact of life. Like the 1% who've found a way to profit in a stagnant economy that limits incomes for most of the rest of us, successful major acts – from the Taylor Swift's to the U2's, Pearl Jam's and Kanye's – continue receiving income from touring as ticket prices skyrocket, fewer and fewer mid-level or up-n-coming artists can afford to survive and continue to produce new, creative music.
Of course, if you don't believe me, you can listen to David Byrne HERE, who has concluded, "What's at stake is not so much the survival of artists like me, but that of emerging artists and those who have only a few records under their belts (such as St Vincent, my current touring partner, who is not exactly an unknown). Many musicians like her, who seem to be well established, well known and very talented, will eventually have to find employment elsewhere or change what they do to make more money. Without new artists coming up, our future as a musical culture looks grim. A culture of blockbusters is sad, and ultimately it's bad for business. That's not the world that inspired me when I was younger. Many a fan (myself included) has said that 'music saved my life', so there must be some incentive to keep that lifesaver available for future generations."
Climbing back down to solid ground, I write all that by way of beginning of this review simply because Muriah Rose is a brand new indie artist with a fine debut that barring a miracle–like many artists praised here at The Fire Note—will likely suffer in obscurity, and because Bill Mallonee has been on the list of "next big thing" emerging artists for the last 3 decades, and while he's one of the most productive artists working today (his brief online bio says he's produced over 70 albums in a 20 or so year career… that's right seventy, as in 7-0), I follow his fan newsletters and FB communiqués closely enough to know that he's struggling to get by, routinely selling off his "extra" amps and guitars to cover his financial needs. Mallonee, like Byrne, has had those "music saved my life" moments—whether they were Dylan, Neil Young, or R.E.M. in his native Athens, and is wondering if there are still people out there who look at music the way he always has.
If you've heard of Mallonee before, no doubt it was as part of the Vigilantes of Love, an alt/rock Americana band that Mallonee led through a variety of personnel changes, but consistently produced recordings and live shows that rang true to the spirit of rock & roll best defined in an ad lib by Bono in the U2 movie, Rattle & Hum: "All I got is this red guitar/3 chords and the truth," which some suspect he borrowed from someone else. If you wanted to quickly explore VoL, I'd recommend these two first: Killing Floor ('93) and Audible Sigh (2000). If you'd listen to a third, check out: Blister Soul ('95).
Since VoL dissolved in early 2002, Mallonee has been busily forging his own way, eventually resettling with his wife Muriah Rose in New Mexico, and busily cranking out so many recordings a year that I doubt even his most ardent fans have been able to keep up. In 2006, "Paste Magazine" named Mallonee one of the 100 greatest living songwriters at #65, a list with the names Bob Dylan, Neil Young, and Bruce Springsteen at the top. Sometimes Mallonee suggested that some of his releases were more like demos, and not part of "finished" albums by labeling some of his works as WPA projects, that is "Works (in) Progress Administration," but that distinction is less and less clear, as he's released four complete projects in 2016, including this latest, Slow Trauma.
Some reviewers, at "No Depression" and elsewhere, have seen Mallonee's latest as part of a trilogy so to speak, connecting in spirit with 2014's "Winnowing" and 2015's "Lands & Peoples," but one could easily argue that his music has always been circling around a central truth also addressed in 2011's "The Power & The Glory" and 2012's "Amber Waves," that the American Dream, while pointing humanity toward it's most glorious potential has failed to deliver on its promise, an all too rich narrative focus in the tradition of Steinbeck and Faulkner, as well as Springsteen, Young & Dylan.
Instrumentally, Mallonee ups the ante on for Slow Trauma by adding lap steel to his mix of acoustic guitar, bass & drums, with him playing all the additional instruments with the exception of piano and organ by Rose. While his vocals may be a tad bit worse for the wear, his lyrics continue to cut to the quick, reminding the listener not only that life is short (there are "Only So Many Grains of Sand" in the "Hour Glass,") but that it's not necessarily sweet: "What you learn comes the hard way; and softly breaks your heart."
And don't look for much more of a healing balm on Rose's singer/songwriting debut, "Beneath the Clay," where she begins with "Here's to the Heartache" and ends with "Return," where "everyone is fighting the battle of the heart," before acknowledging that the one thing we're left to hold on to is love. Rose, who has toured with Mallonee for the last 15 years or so, providing keyboards and harmony vocals, has a strong, pretty voice, with a mild country lilt not unlike Emmylou Harris or Linda Ronstadt. It's made all the prettier when she adds her own harmony vocals, and Mallonee's simple acoustic solos on "Cumberland Blues" and "Return" give her record a unique tone, apart from his own.
The world is too full of shoulds, we often should all over our selves. So, I'll word it this way, fans of singer/songwriter in the American folk and country traditions, and, in the case of Mallonee, rock & roll, would find a great wealth of musical reflections on life's most essential realities in the life's work of these fine artists, and as ports of entry, Slow Trauma and Beneath the Clay are great places to start.
Bill Mallonee Website
Muriah Rose Website
Bill Mallonee Facebook
Muriah Rose Facebook
– Reviewed by Brian Q. Newcomb
Latest posts by Brian Q. Newcomb
(see all)