Bill Callahan


Dream River
Drag City Records [2013]



Fire Note Says: Bill Callahan slows life down on the entrancing Dream River.
Album Review: Bill Callahan is still best known from his work with Smog but since his first solo record, Woke on a Whaleheart, was released under his own name back in 2007, he has taken a different path musically but still has released consistently great records. He is now a low key storyteller that makes thought stirring albums which need time, patience and repeat spins to truly sink in. Dream River is no different as its soundscapes wall you in with Callahan's current world view.
Right from the first track, "The Sing," you get a real taste of what Bill Callahan has to offer. He immediately taps into your psyche with the line "Looking out a window that isn't there" that sets up this contemplative feeling within the listener. We have all been there – just time to stare into space and think – that is what Callahan encourges here. Callahan's space is somewhat lonely though at times, as he states "The only words I said today are beer and thank you" with a hesitate pause he says them again "Beer … Thank You." It is a moment right in the first song on Dream River that you just sit back in awe as Callahan's baritone voice makes you acknowledge how his lyrics can hit home. What I like about Dream River is that like its title, Callahan does not care about time on this record. His songs are very assuming that, like him, you have all kinds of time to listen. On the record's longest song, "Summer Painter," he talks about painting names on boats for an entire summer with a very jazzy and peaceful background music that includes a flute moving throughout the track. The over six minute song uses every second to spread Callahan's message but also has an explosive middle of instruments that finds Bill raising his voice slightly above the them. At this moment he has an internal battle with the song's elements that push him until he gains back control. Beautifully written and beautifully performed.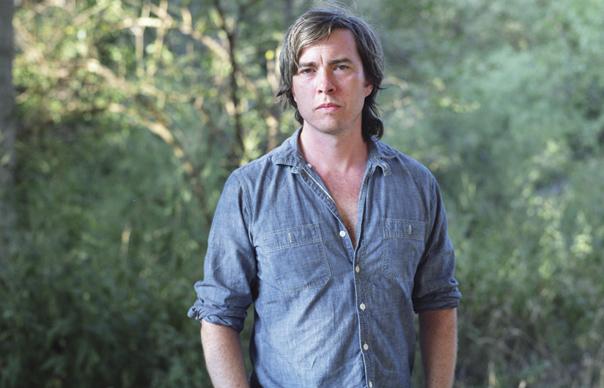 Elegant sums up Dream River in one word. This album is another fine entry into Callahan's catalog and finds him just doing his own thing at his own pace. The slow nature of Dream River will not be for everyone because its format just won't appeal to some longtime fans hoping for a Smog like sound. With that said, Dream River is one of most accomplished albums from Callahan that just sounds like everything is in place. It is a record that is not immediate and that is why it works. Dream River forces you to dig deeper and listen to every word. This is where the record offers rewards and you realize that Bill Callahan is an artist that is just getting better!
Key Tracks: "The Sing", "Spring", "Summer Painter"
Artists With Similar Fire: Lambchop / Nick Cave / Bonnie 'Prince' Billy
Bill Callahan Sings 'Small Plane' In A Serene City from NPR Music on Vimeo.
Bill Callahan Website
Bill Callahan Facebook (Unofficial)
Drag City Records
-Reviewed by Christopher Anthony

Latest posts by Christopher Anthony
(see all)