Big Thief


Capacity
Saddle Creek Records [2017]


Fire Note Says: Second album from Brooklyn quartet is more varied, more broken, more human.
Album Review: After the clamour and scrawl of Big Thief's debut album, Masterpiece, it might be a surprise to some that they start their follow up album, Capacity, with the track "Pretty Things" with hushed vocals and the muted strum of an acoustic guitar.
The sound of the vocals starts off as a counterpoint to Masterpiece, where the band came roaring out of the gates. If it weren't for the intensity of the lyrics, we might not know we were listening to the same band.
There's an intimacy on Capacity, between songwriter and listener, and even in it's quieter moments, it remains as intense as the band's roaring rockers.
"Thighs were in thunder and lighting and men are baptized in deceit and fighting." Lead singer Adrianne Lenker sings, and she's able to balance such weighted intensity with focusing on the fact that the boy in the song had, just like the narrator had "lips like sugar."
Things pick up with "Shark Smile." The track has the kind of breezy propulsion we'd find on a car ride when we were young and life was long and summer lasted forever. "It came over at a bad time, she drove over the double line." Lenker sings, and we now know that this album is a song cycle, even if takes a few spins to get the full story clear in our heads. But it's the way Lenker let's us in that keeps us coming back to get a little more inside her world.
The title track,"Capacity" has more of these hushed vocals hid behind a bush of guitar and high hat. The vocals float up above to reveal truths, then retreat back behind guitar, bass and drums. This album feels like a personal revelation. Lenker's voice bends and twists in a waltz around all that electric guitar. It's disorienting as much as it is beautiful. "I am canyon the blue nights are crying together. The child is holding your hand."
In "Coma" there's a sweetness to the song, a trill of voice she uses to draw us in. This sweetness is the center of the subject's brain that still remembers when they were still alive and young and free. It's a lullaby to someone teetering on the edge, and it slips off the way one would slip off to sleep.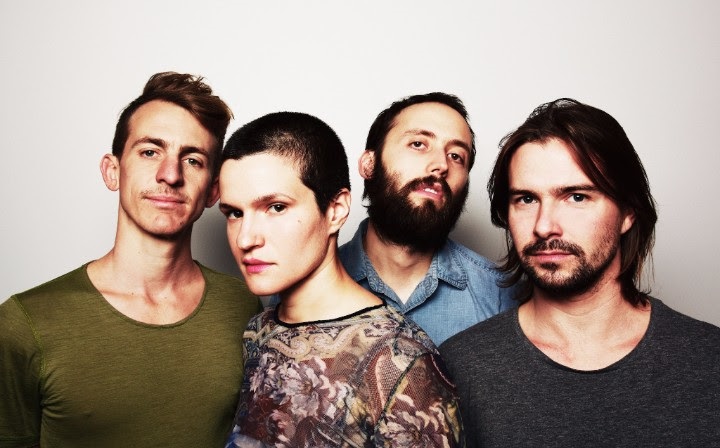 "Great White Shark" revisits the shark metaphor and there's her voice again, spinning a song that comes alive, the band falling in around Lenker's vocal melodies.
There's a life lived to these songs, in the images Lenker conjures. Capacity tests our limits, to fill ourselves both positively and negatively with the things that make the world spin.
"Mythological Beauty" is a stand out, a memorable hook to go with the lyrics "You're all caught up inside, but your mine.". These song's, just like the emotions that follow them can't be held in check, they crack and break, the melody is ripped apart then re assembled.
"Mary" starts to wind the album down. Her voice hangs above us, a spirit about to leave this world. "And you'll kiss me like you did in that January night."
There's a novelistic tone to Capacity, the lyrics take us from track to track, moment by moment. Lenker launches into a pirouette of words, spinning words and syllables, image and regret.
Artists have a choice of what to put on the cover, and this cover is especially important, it's the lead singer, holding a child, with a crib in the background. She looks on, the lead singer, she looks at the viewer as if to say, this is not about you, this is about her and me. And that's what makes Capacity so intriguing, we are only halfway let in to what the songs are about. It's up to us as full bodied humans to figure out the rest.
Key Tracks: "Mary"/ "Great White Shark" / "Mythological Beauty"
Artists With Similar Fire: Waxahatchee / Cat Power / Kristin Hersh
Big Thief Website
Big Thief Facebook
Saddle Creek Records
– Reviewed by Adam Strong
Latest posts by Adam Strong
(see all)