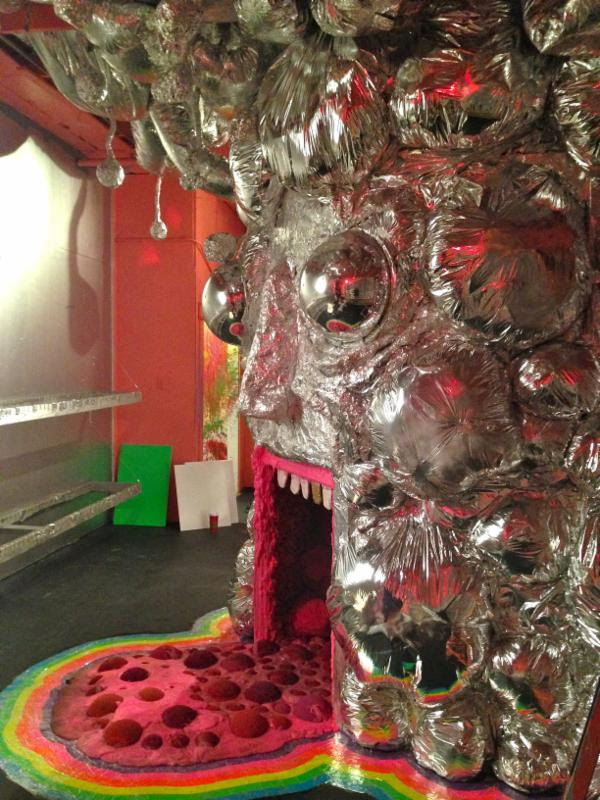 Wayne Coyne, frontman for The Flaming Lips, is creating brand-new visual artwork for the next exhibition at Baltimore's American Visionary Art Museum (AVAM). Opening this October, AVAM's The Big Hope Show will thematically explore issues relating to hope and transcendent survival and showcase works from dozens of visionary artists and thinkers, including drawings, sculpture, and an immersive installation (titled King's Mouth) by Coyne. It will be the first museum showing of Coyne's art.
The AVAM show seems like a natural progression for Coyne, who joins a roster of pop culture figures previously exhibited at the museum: the list includes writer William S. Burroughs, Jimi Hendrix, actor Terrence Howard, chef Mario Batali, and comics legend R. Crumb.
The Big Hope Show will run through August 2016 and feature, in addition to Coyne's art, work from John Waters photographer/documentarian Bob Adams, fabric artist Chris Roberts-Antieau, drawings by Margaret Munz-Losch, anonymous PostSecrets selected by Frank Warren, activist artist Jackie Sumell, and many more.
THE FLAMING LIPS are on tour now:
Jul 19 – Toronto, ON – Panamania, Nathan Phillips Square
Aug 7 – Bethlehem, PA – Musikfest
Aug 15 – Walla Walla, WA – Gentlemen Of The Road
Aug 21 – Salida, CO – Gentlemen Of The Road
Aug 27 – Edinburgh, UK – Magners Summer Nights
Aug 29 – Portsmouth, UK – Victorious Festival 2015
Sep 5 – Calgary, AB – X-Fest
Sep 6 Edmonton, AB – Sonic Boom
Sep 13 Burlington, VT – Grand Point North
Oct 10 San Diego, CA – CRSSD Festival
Nov 7 Dallas, TX – Untapped Festival

Latest posts by Christopher Anthony
(see all)