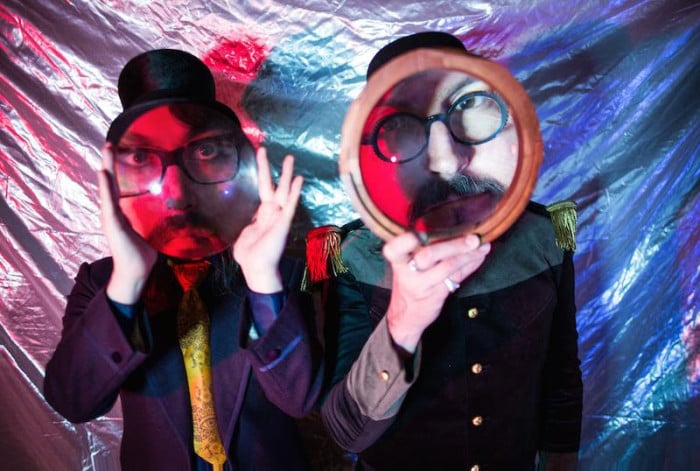 After Primus and The Ghost of a Saber Tooth Tiger completed a successful summer tour, Les Claypool and Sean Lennon decided to combine their abstract talents into a project called The Claypool Lennon Delirium. Their efforts thus far have spawned the upcoming full-length release Monolith of Phobos.
The album is out on June 3rd via ATO Records, and to no surprise takes listeners on a psychedelic journey through the cosmos. You can hear the track "Mr. Wright" below and pre-order the record HERE.
The Claypool Lennon Delirium will begin their Summer tour on June 4th and the touring band includes Les Claypool (bass, vocals), Sean Lennon (guitar, vocals), Mark "Money Mark" Ramos Nishita of the Beastie Boys (keyboards), and Paul Baldi of the Fungi Band (drums). All upcoming tour dates including Bonnaroo and other summer festivals are below as well as the tracklisting.
TOUR DATES
6/4 – Orlando, FL – The Beacham
6/5 – Tampa, FL – The Ritz
6/7 – Athens, GA – Georgia Theatre
6/9 – Wilmington, NC – Greenfield Lake Amphitheatre
6/10 – Asheville, NC – Orange Peel
6/11 – Manchester, TN – Bonnaroo
6/12 – St. Louis, MO – The Pageant
6/14 – Kansas City, MO – Crossroads
6/15 – Minneapolis, MN – Skyway Theatre
6/17 – Garrettsville, OH – Nelson Ledges Quarry Park
6/18 – Port Chester, NY – Capitol Theatre
721 – Seattle, WA -Showbox SODO
7/22 – Jacksonville, OR – Britt Pavilion
7/23 – Portland, OR – Roseland Ballroom
7/25 – Jackson Hole, WY – Pink Garter Theatre
7/26 – Missoula, MT – Wilma Theatre
7/27 – Salt Lake City, UT – The Depot
7/29 – Los Angeles, CA – Fonda Theatre
7/30 – Tempe, AZ – Marquee Theatre
7/31 – Las Vegas, NV – Brooklyn Bowl
8/2 – Santa Ana, CA – The Observatory
8/3 – San Diego, CA – Observatory North Park
8/4 – San Luis Obispo, CA – Fremont Theatre
8/5 – 8/7 – Buena Vista, CO – Vertex Festival
8/9 – Iowa City, IA – Englert Theatre
8/11 – Detroit, MI – Majestic Theatre
8/12 – Columbus, OH – Express Live! Indoor Pavilion
8/13 – Scranton, PA – Peach Fest
8/26 – Boston, MA – HOB Boston
8/27 – New Haven, CT – College Street Music Hall
8/28 – Portland, ME – State Theatre
8/30 – New York, NY – Irving Plaza
8/31 – Philadelphia, PA – The Fillmore
9/1 – Washington DC – 9:30 Club
MONOLITH OF PHOBOS TRACK LISTING
The Monolith of Phobos
Cricket And The Genie (Movement I, The Delirium)
Cricket And The Genie (Movement II, Oratorio Di Cricket)
Mr. Wright
Boomerang Baby
Breath of a Salesman
Captain Lariat
Ohmerica
Oxycontin Girl
Bubbles Burst
There's No Underwear In Space
Latest posts by Fire Note Staff
(see all)