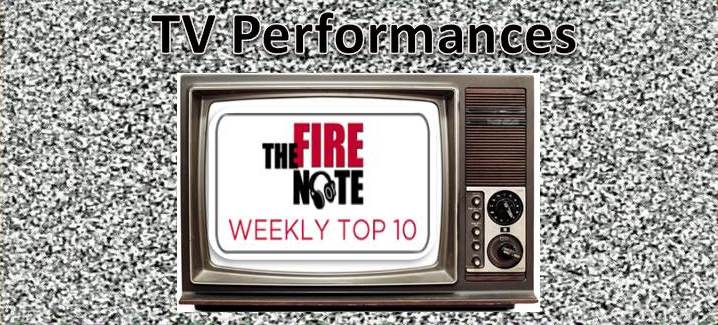 February is sweeps month in the TV business – a time when ratings are scrutinized and shows pull out all the stops to get viewers. This made us think of some of the better music TV performances over the years.
As usual we've probably grossly overlooked something but we only could list 10 – add your thoughts in the comments below!
#10

Queen


"Radio Ga Ga" from Live Aid (1985)

It's easy to forget just how powerful Queen was as a band. This Live Aid performance showcases Freddie Mercury's raw talent and the band's widespread appeal.
#9

R.E.M.


"Half A World Away" from MTV Unplugged (1991)

I couldn't let a list go by without mentioning REM. Their music is tailor-made for an unplugged performance and "Half A World Away" was a great way to open their MTV Unplugged set.
#8

Jimmy Fallon & Stephen Colbert


"Friday" from Late Night with Jimmy Fallon (2011)

Just two guys having fun with a stupid song. Fallon and Colbert sell it, which makes the bit.
#7

U2


"I Will Follow" from The Tom Snyder Show (1981)

I wonder how many people back in 1981 predicted that U2 would turn out to be one of the biggest bands ever. Give The Tom Snyder Show props as this was the group's American television debut and they nailed it.
#6

Kanye West


"Black Skinhead" from SNL (2013)

Watching this live took my breath away. The ferocity of Kanye's delivery and his intensity (which sometimes gets the better of him) make this performance unforgettable.
#5

Nirvana


"The Man Who Sold The World" from MTV Unplugged (1993)

Damn I miss MTV Unplugged. When I think of the series Nirvana is the first band that comes to mind. So many great performances ("Lake of Fire," "Jesus Don't Want Me For a Sunbeam") but this one tops the setlist.
#4

Guided By Voices


"The Unsinkable Fats Domino" from Late Show with David Letterman (2012)

This appearance on Letterman showcased the classic lineup of Guided By Voices ripping through the first single "The Unsinkable Fats Domino," supporting their first reunion record Let's Go Eat The Factory (TFN Review). Not only was it something fans had been waiting 15 years for but it also is not one to forget as about 35 seconds into the song bassist Greg Demos crashes to the ground, gets back up, laughs it off, and never misses a strum. That is rock n roll!
#3

Bob Marley & The Wailers


"Kinky Reggae" performed on The Manhattan Transfer (1975)

The Manhattan Transfer was a musical variety series on CBS and this premiere episode was not only the American TV debut for Bob Marley and the Wailers but it also marked the first time a reggae group performed on network television.
#2

The Beatles


"All My Loving" from The Ed Sullivan Show (1964)

Just listen to the shrieking. An estimated 73 million viewers tuned in to catch The Beatles first televised appearance.
#1

Eddie Vedder, Mike McCready, and Neil Young


"Long Road" from America: A Tribute for Heroes (2001)

Like almost everyone around at the time, I watched this live. I remember the reverence with which all of the artists played and this song encompasses the solemnity of that time period, when the country was shocked, confused, and angry with what had occurred. Music can indeed heal and this concert helped me feel a bit more hopeful again. -Heiner

-Feature by Matthew Heiner & Christopher Anthony
Latest posts by Fire Note Staff
(see all)