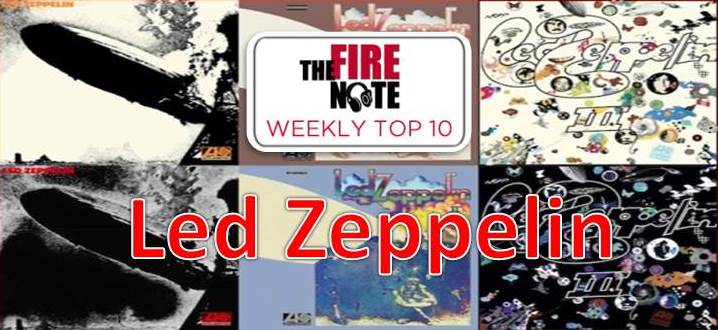 It's finally happening and The Fire Note couldn't be happier: last week Jimmy Page announced that the long talked about Led Zeppelin remasters are finally coming to fruition. We thought there'd be no better way to celebrate than to knock out a top 10 list of tracks from the first three albums, as those will be the first batch reissued (all the others will be coming at a later date).
Since all these albums are so memorable, some difficult choices had to be made. But here, based on ingenuity, influence, and all out rock 'n' roll energy, we've assembled our top 10 tracks. We really cannot wait to hear the needle surf through the grooves of those 180 gram pressings.
#10

"Tangerine"


Led Zeppelin III

Led Zeppelin III introduced a gentler (but no less effective) Zeppelin, and "Tangerine" is one of the standout acoustic tracks on that album. Double-tracked Robert Plant harmonies float over Jimmy Page's twelve-string and pedal steel work, showing that the band's melodic instincts weren't just limited to the blues.

#9

"Communication Breakdown"


Led Zeppelin

A thundering track that never lets up, "Communication Breakdown" contains some of Jimmy Page's most frenetic guitar soloing. With its insistent riff, Robert Plant's howling vocals, and Jonesey and Bonzo holding down the beat, "Communication Breakdown" is the epitome of the band's early sound.

#8

"That's The Way"


Led Zeppelin III

Probably the quietest track on the band's third album, "That's The Way" is also its most heartbreaking. Containing what might the most poignant melody Page and Plant ever composed, the track builds up its dreamy atmosphere with layers of guitar, mandolin and dulcimer, and is an evocative reflection of the pastoral environment in which it was recorded.

#7

"What Is And What Should Never Be"


Led Zeppelin II

A great example of the loud/quiet dichotomy that Led Zeppelin do so well, "What Is And What Should Never Be" hinges on the contrast between the bluesy, phased verses and the heavy, lurching chorus. It's the band's two sides coming together for one great track, one that often gets overshadowed by Led Zeppelin II's other classics.

#6

"Ramble On"


Led Zeppelin II

Hidden beneath their cool, rock-god exteriors, Led Zeppelin were kinda nerdy, and that nerdiness comes to the surface on "Ramble On." With lyrics that reference Tolkein's Lord of the Rings and more of that soft/loud juxtaposition, it's one of those tracks that everyone thinks of when they think of "70's heavy metal."

#5

"Dazed And Confused"


Led Zeppelin

Evolving out of The Yardbirds song "I'm Confused," "Dazed and Confused" grabs you immediately as it starts it slow creep. Marking the first time Page used a violin bow on his Telecaster, "Dazed and Confused" creates an evil vibe not shared by many at the time. For its solos alone it had to crack the top 5.
#4

"The Lemon Song"


Led Zeppelin II

Sexuality is always a factor for Led Zeppelin, and "The Lemon Song is a great example of that. Drawing on their fascination with early blues greats such as Robert Johnson, John Lee Hooker, and Howlin' Wolf, this is a rocker for the ages. Plant references "Killing Floor," a Howlin' Wolf song about male-female relationships—specifically, that age-old problem of a woman getting you down.

#3

"Friends"


Led Zeppelin III

"Friends" is a classic example of Led Zep mysticism. Inspired by their love of Indian/Persian culture, this acoustic number soars. "Friends" is also one of the few Zep tracks that actually includes a string arrangement, this one by bass player John Paul Jones (who unfortunately never got a writing credit for it).
#2

"Good Times Bad Times"


Led Zeppelin

Not many people would refuse advice from the one and only Robert Plant. Knowing Led Zeppelin as we do now, we know that they never had much of a struggle for the attention of female fans, but you wouldn't know it by this song's lyrics. Accompany Plant's down-on-your-luck lyrics with Page and his deadly, lesser-known "Dragon" Telecaster, and that's a classic in the making
#1

"How Many More Times"


Led Zeppelin

With #2 on our list being the Led Zeppelin opener, It's only fitting that our #1 is the Led Zeppelin closer. What separates "How Many More Times" above all these other great tracks? Plant's opening vocal howl, the reappearance of Page's violin bow, memorable Jonesy bass line, as well as the breakdown near the end. Plant croons about Rosie while Page provides a sexually-charged, bounding riff that never leaves your head. It's one of our favorite parts to ever grace a Zep song and easily makes this our #1.


-Feature by Christopher Tahy and Simon Workman

Latest posts by Christopher Tahy
(see all)