The intent of our Label Profile feature is to simply highlight a record label that we feel aligns with our own belief here at The Fire Note that music is an experience.
Today we profile White Whale Records. A huge thanks to founder Ryder Havdale for taking the time to answer our questions. If you like what you hear below make sure to go over to the White Whale site HERE and give them your support!



TFN: Who are you? Where are you?
Havdale: Ryder Havdale. Just got off the plane in Vancouver after a year based out of Berlin.
TFN: When and how did the label start?
Havdale: The first release were for my bands, The Mohawk Lodge and Kids These Days in 2004. I had no idea how to get our music out there so I decided I'd start a label and soon other bands were contacting me for help. To get it rolling I emailed a few other labels and asked for advice… Huge thanks go to Lisa from Three Gut Records, Syd from French Kiss (and Les Savy Fav), Andy from Ache Records and Jon at Kelp Recs who all took the time to answer that email!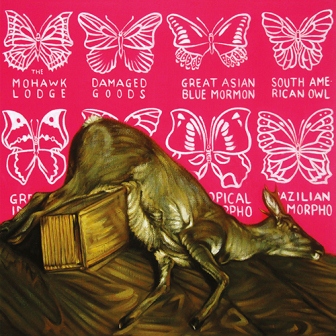 TFN: How big is your current active roster?
Havdale: Most of the bands whose music we've released (11) are still active. We've always kept the label pretty small and have only released 25 records over the past 8 years. But, this year I'm going to be more focused on touring and we'll only be doing a couple records.
TFN: What does White Whale look for in a band?
Havdale: Albums that become my favorite records and artists that are fully committed to living it.


TFN: Is there a "White Whale" sound?
Havdale: After living in Berlin the past year, it occurred to me that everything we've released sounds "Canadian" 😉
TFN: Top 3 White Whale releases? Either in sales or any other special reason for White Whale.
Havdale: 1) Adam Franklin's :"Shine A Light" 7″ – because it actually exists. Adam plays in Swervedriver, one of my all-time favourite bands. The release was supposed to be a split with Adam covering a Wolf Parade track and Dan Boeckner of Wolf Parade/Handsome Furs covering a Swervedriver track. But, Dan never turned his version in. I felt I let down Adam for a long time until he dropped me a line last year and wanted to go for it with the Clientele cover on the other side for the Swervedriver reunion.. We've still got a few copies left! https://soundcloud.com/whitewhalerecords/sets/adam-franklin-shine-a-light
2) Eamon McGrath : 13 Songs of Whiskey and Light – because it's just awesome. Eamon gave me 18 of his recorded albums to check out (he was 19) and I listened to about 180 tracks over the course of the month and picked my favourite 13…
3) The Mohawk Lodge : Damaged Goods – because it's brand new, and, 'cause it's the first record of mine that turned out the way I wanted it – and that I can still listen to 😉


TFN: Has the resurgence of vinyl helped White Whale?
Havdale: I love vinyl, but, I'd say digital and streaming has helped the label more than anything.
TFN: What is in the pipeline for 2013?
Havdale: This year though I'll mainly be focused on getting back to what got me into music in the first place… Playing it! We're in the middle of releasing The Mohawk Lodge "Damaged Goods" and I'll be touring and recording for the better part of the year with a few surprise 7-inch's coming out in the spring as well as a new Culture Reject album.


TFN: Name an album (classic or new) that gets plenty of airplay at the office?
Havdale: I was about to start watching Tom Petty's Classic Albums TV feature on Damn The Torpedo's… I love that album. The last classic album I listened to (a few hours ago) was Bob Dylan "Infidels" (Sweetheart Like You is a killer tune). Speaking of those 2 dudes.. Probably my all-time most-played classic album would be Travelling Wilbury's Volume 1. It was the only album everyone in my family would agree on listening to on road trips and I still think it's amazing. All those tunes were written over 9 days, and the making of it DVD (check it on youtube) is just awesome.
TFN: What do you think of the current state of music? I know big question but share some wisdom!
Havdale: It just is what it is. I was never in it when the huge money was flowing and we've never released a hit record. But, we've found our own niche and it pays the bills – somehow ;).
To be honest though, the whole business side of it doesn't really interest me like it used to. I just got back from 50 solo shows through Europe and I'm content to be playing under the radar, learning every night, meeting rad people and making enough to be satisfied.

Latest posts by Christopher Anthony
(see all)