Various Artists


Guided By Voices Tribute
Salinas Records [2013]


I don't know whose idea it was to do a Guided By Voices covers 7-inch but I am game. Especially when the four groups on this split are all what I consider to be up and comers in the indie world. With Screaming Females, Swearin', Upset and Waxahatchee could you really go wrong here?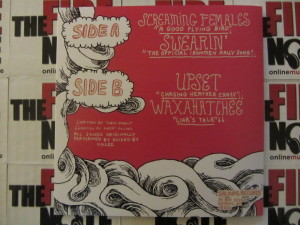 The A-side features Screaming Females covering "A Good Flying Bird" which is a Tobin Sprout song from Alien Lanes. The Screaming Females hit it head on and speed it up a bit with their own punk rising. Next up is Swearin' tackling the big Pollard power track "The Official Ironmen Rally Song." I liked how Swearin' alternate their male/female vocals but yet retain the track in its original form. The B-side gives you Upset, which is the new band from Ali Koehler (Vivian Girls, drummer Best Coast), singing "Chasing Heather Crazy" from GBV's Isolation Drills. Upset distort this big alt pop song with a sawing guitar and then bring the strong female harmonies on the chorus which works nicely. The last track is probably my favorite, as Waxahatchee reaches way back to sing "Liar's Tale". This song is the second to last track off the 1989 album Self-Inflicted Aerial Nostalgia. It is treated with great respect as Katie Crutchfield keeps it acoustic and lo-fi. Win-win!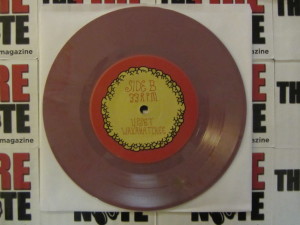 The jacket is a fold over cardboard design with art on the front and back. The 7-Inch is limited to 800 copies on random mixed vinyl although ours is mostly purple with several faint colors blended into it. The 7-inch is spun at 33 rpm and you can currently can still find a copy at Salinas.
Salinas Records
-Feature by Christopher Anthony

Latest posts by Christopher Anthony
(see all)