Far-out Fangtooth


Borrowed Time
Siltbreeze Records[2013]



Fire Note Says: Fires burn and cauldrons bubble as Far-out Fangtooth continue atmospheric amp worship on Borrowed Time.
Album Review: Have you ever wondered what it's like to wander into the castle laboratory of Dr. Frankenstein? The Philly foursome known as Far-out Fangtooth try to provide the best answer they can to that question. Inspired by the love of drone-fuzz amp worship, gothic erotica, and dark psychedelics, Far-out Fangtooth grace us with their presence once again on Borrowed Time, the follow-up to their 2011 debut Pure & Disinterested.
One of Borrowed Time's main strengths is its sense of atmospheric balance. It no secret that these track are dense, packed with expression, changes in texture, and interesting instrumentation. But just as important is the album's focus on vast vistas and hypnotic hollows. First track "Bow Your Head" makes you want to don a hooded robe as it leads you into the deep forest where mysterious rituals take place. The keys to the song's success are the rasp-driven shouts that mimic Alex Mass' vocals (The Black Angels) as well as the underpinning of female vocals that nod to Black Mountain. "Mother Nature Fetish" is another standout, taking two vocalists and putting them in a haunting, fuzzy, scuzzy quarrel. Pair that with a sexy, glossy post-punk momentum and a druggy haze and that tension is no longer a problem. "Green Hands" takes a rolling drone approach, but the secret ingredient is the swirl underneath, accompanied by guitar interludes that are blooms within blooms.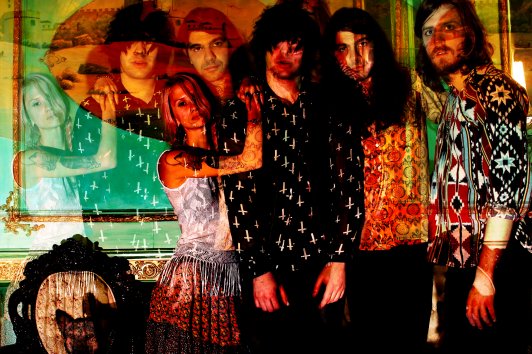 Far-out Fangtooth are always atmospheric cosmonauts and they can sometimes focus on it at the expense of healthy songwriting. But Borrowed Time is able to avoid this problem with its constant sonic surprise. "Admit It" catches the ear with dark, Persian guitar arrangements, while the many of the songs I didn't mention have their own highs and lows in equal measure. Final track "Stretch/Lips," for instance, combines woozy vocal cries, gentle, molten rhythms, druggy churns, and a landing U.F.O to signify the end of humanity, only to buck the trend during the guitar-driven, noise wash monster of a coda that mashes its way to the end of the track's six-minute run time.
I was really ready to discredit Far-out Fangtooth—I couldn't understand what I didn't know. But after relaxing my mind for a few extra listens, I realized my thirst for sonic sustenance had been quenched. Borrowed Time is a showcase for the cleaner, leaner, and meaner Far-out Fangtooth. The same central vision is there, but subtle surprises are always lurking around the corner. Like a slimy tentacle from the nether-verse Far-out Fangtooth could easily grab you for another spin.
Key Tracks: "Mother Nature Fetish," "Green Hands," "Admit It"
Artists With Similar Fire: The Cramps / Night Beats / The Velvets

Far-out Fangtooth Website
Far-out Fangtooth Facebook
Siltbreeze Records
-Reviewed by Christopher Tahy

Latest posts by Christopher Tahy
(see all)