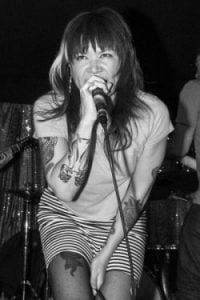 How about some in your face free-for-all punk rock? Well, ready or not – that is what you are getting today with TFN's premiere of "Throwing Pennies" from Oakland's Dots!
The psychedelic hardcore of the band found here is propelled by the energized vocals of front woman Camylle and the groups short bursting guitar riffs. All of this comes at you laser fast as her tunnel distorted vocals create a much bigger space than the just over 2 minute run time of the song.
"Throwing Pennies" is the opening track from Dots debut self-titled 12″ which is out June 28th via Dirt Cult Records. The record is limited to 300 copies on black vinyl and you can snag one right now HERE. Trust us when we say – it's a scorcher!

Dots Instagram
(Photo credit to Rob Coons)
Online Music Magazine: Independent Music Reviews, Vinyl Spotlights, Music News, Videos, 7-inch record features + more!
Latest posts by Fire Note Staff (see all)
Please follow and like us: