Sometimes it is fun to go back and check out a past review. Today's flashback review features the Motel Beds 2012 release Dumb Gold which landed at #13 on our Blazing Top 50 that year. The record is a Dayton, Ohio "must have" for any indie rock collection and this week the album finally received its long overdue first pressing on vinyl from Magnaphone Records.
There are still some copies left so after reading what a great album this is – head on over to Magnaphone HERE and add it to your collection. Also remember that 100% of the sales of Dumb Gold help pay down their drummer, Ian Kaplan's medical bills which is just another great reason to own a copy!
Motel Beds


Dumb Gold
No More Fake Labels [2012]


Fire Note Says: Dumb Gold from Motel Beds is no fool!
Album Review: It may have surprised some people when last year's Motel Beds release, Tango Boys, made our Top 50 after only being out several days but with the release of their brand new full length, Dumb Gold, you will realize we were spot on. This record not only carries forward the same energy of Tango but makes their tight song structures and execution even tighter.
From the opening rocker "Smoke Your Homework" the band grabs your attention with the double guitar attack of Darryl Robbins and Tommy Cooper leading this complex but clean indie approach as frontman Paul John Paslosky cries out "So come on, come on, come onnnn!" It is this type of controlled urgency that boosts the Motel Beds tracks to the next level and leaves the listener wanting more. More is exactly what you get as "Valentimes" starts off with the strong rhythmic pattern drumming of Ian Kaplan that serves as the songs backbone before its swaying and swirling instruments take over and the band call out "Take take take take your money" will have you singing along instantly. The Motel Beds definitely showcase their ability to turn the volume knob up here but their ability to shift gears down is a true high mark for Dumb Gold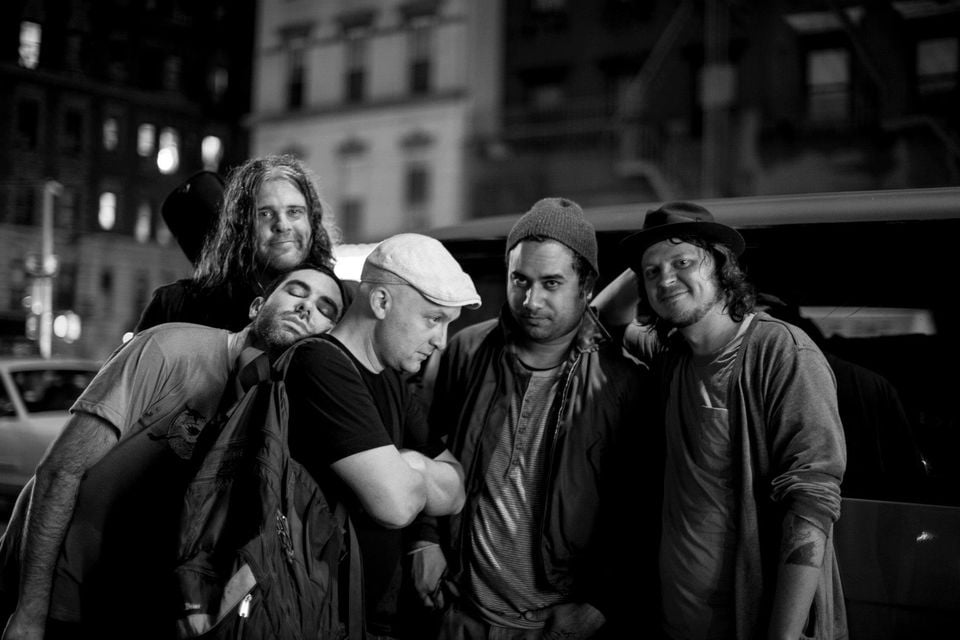 On songs like "Oh Me, Oh My" you get to hear a softer side to Paslosky's voice that comes across even more confident and clear while the vocal support of bassist Tod Weidner gives the song a memorable depth. The dreamy surf tone of the title track once again offers up a diversity to the band that highlights their uniqueness without sounding out of place. The Motel Beds have once again given their audience a quality mix of genres that not only gives them an instant likability factor but showcases their potential. Their blended style of British Invasion hi-fi meets Midwestern lo-fi works throughout Dumb Gold and I believe just pushes the album past Tango Boys as their now best release to date. Here is hoping that others take the time to listen because Dumb Gold absolutely does not disappoint and gets better every time you give it a rotation!
Key Tracks: "Smoke Your Homework", "Oh Me, Oh My", "Overlapping Planes"
Artists With Similar Fire: Cheap Trick / The Strokes / T. Rex

Motel Beds Website
Motel Beds Facebook
No More Fake Labels
-Reviewed by Christopher Anthony

After spending the early 90's managing a record store, the mid to late 90's producing alternative video shows and 00's blogging about the music scene Christopher Anthony is always ready to hear new music.

Latest posts by Christopher Anthony (see all)
Please follow and like us: