Broken Social Scene


Hug Of Thunder
Arts & Crafts [2017]


Fire Note Says: All killer, no filler.
Album Review: For a band with as many members as Broken Social Scene (15 to be exact), an album can go one of two ways. It could be a messy cacophony that never manages to have a unified sound or vibe. Or it could take the assets of each member and bring them together to exceed the sum of its parts. The former option is more likely while the latter is really difficult to pull off. And Broken Social Scene has pulled it off.
As a fan of a quick one-two combination to start an album, Hug of Thunder pulls off one of the better ones I've heard this year. "Sol Luna" is a light instrumental that is dreamy yet room-filling. It lasts only a minute but sets you up for a soft landing. The opening punch of "Halfway Home" connects all the harder due to the contrast with the previous track. "Halfway Home" is a rock anthem that showcases the percussion and bass, which is prevalent on the rest of the LP. For those of you who like depth to your music, you'll revel in Hug of Thunder.
But it doesn't stop there. "Protest Song" is a propulsive song about an ambiguous protest. It leads right into "Skyline," an acoustic, harmony-filled folk song, reminiscent of early Fleet Foxes. It's big yet simple and revolves around its melody. After a week "Skyline" is the song that has wriggled its way into my head.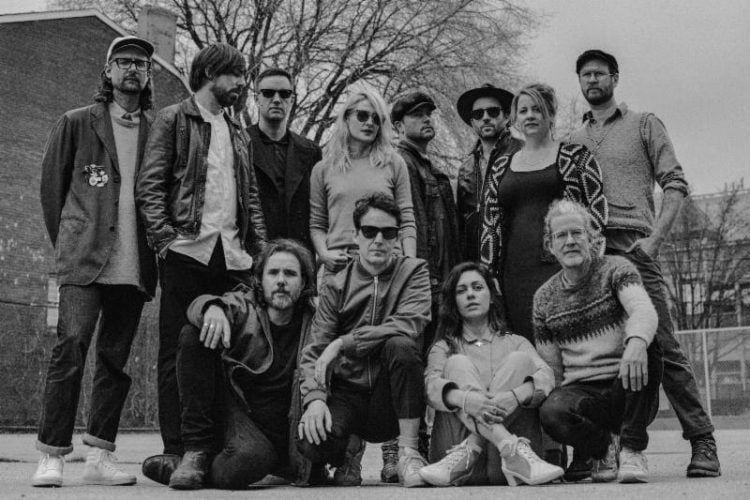 The track that made the biggest initial impact was "Vanity Pail Kids." Following the rock anthem, the folk song, and an instrumental opener, this is a grungy, violent almost industrial number. The drums hit so hard they thudded through my body, whether I was listening in my car or through headphones. It's another surprise on a Side One that is full of them.
Side Two is really good but a notch below Side One. "Hug of Thunder" is a grower of a track that may get the most play on radio. That slight slip on the album's second half is one of two quibbles with Hug of Thunder. The other is the relative simplicity of the lyrics (excluding the album's last two tracks). Each song is so defined by its hook that the lyrics often feel tacked on. Again, this is nitpicking with such a wonderful, engaging, surprising album.
Key Tracks: "Halfway Home" / "Skyline" / "Vanity Pail Kids," "Hug of Thunder"
Artists With Similar Fire: Metric / The New Pornographers / Arcade Fire
Broken Social Scene Website
Broken Social Scene Facebook
Arts & Crafts
– Reviewed by Matthew Heiner

I appreciate being able to write for The Fire Note, as it gives me an excuse to keep up with what's happening in new music.

By day I am a dad and a psychologist; I often use music as a way to connect with both my kids and my clients. One of my proudest moments as a father was when my 12-year-old daughter told me of her undying love for Radiohead.

Latest posts by Matthew Heiner (see all)
Please follow and like us: