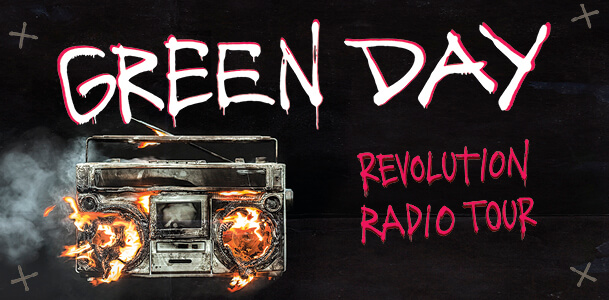 Green Day: Riverbend Music Center; Cincinnati, Ohio – Sunday, August 20, 2017
Over 20 years ago, as Green Day began dominating alternative rock radio with singles like "Basket Case" and "Longview," which required a few words to get the censor "bleep" treatment, that we'd be talking about a multi-platinum selling, Rock & Roll Hall of Fame inductee, Broadway show producing, rock star phenomenon with the ability to sell out large outdoor concert sheds around the world? I think back to those early days when Green Day was playing rock clubs coast to coast, and punk music fans were debating if they were still really punk since they had "hit" songs, and Billy Joe Armstrong seemed to smile a lot when the band performed, but we've come a long way from the time when drummer Tre Cool routinely set his drum kit on fire after the spent their last song imitating The Who by knocking over most of their instruments on stage, and you knew there would be no more encores because there was nothing left standing.
Sunday night, these 30 year veterans from East Bay, California, delivered a rock show that was all rock and all show. When it came time for Green Day to vote whether it was still punk if it was entertaining, entertainment won with a landslide, but there's no doubt that what brings the large, sold-out crowds to the party is these songs. They pulled out every trick in the book, great light show, big backdrop and flashing "GREEN DAY" sign, explosives and pyrotechnics, flame throwers and, hell, on the final encore they even had confetti cannons, so that it snowed paper from both the front and back of the roofed seating area, drifting out to the lawn.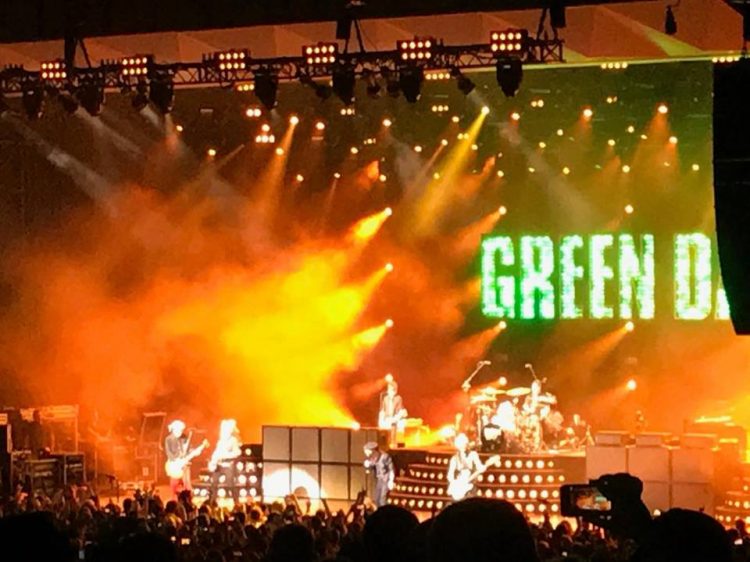 Knowing how to crank up an audience, Green Day only hit the stage after a loud sing-along version of "Bohemian Rhapsody" played through the PA which had the whole crowd doing their best karaoke Freddie Mercury, special points for those that air-guitared the Brian May solo. That was followed by a recording of The Ramones' "Blitzkrieg Bop," while a roadie in a pink rabbit suit cajoled the audience into screams of hysteria, yelling "hey ho, let's go." I'd say who knew rock audiences were so easily manipulated, but then of course, Billie Joe knew. I can't count the times during their 2 hour show that he engaged the crowd in a "hey, ho" call and response, or for the number of times he yelled out "Cincinnati, f-ing, Ohio!" to assure people he knew who where he was playing.
The band hit the stage hard and fast, with "Know Your Enemy," and Armstrong was running from side to side of the large stage, mugging for the crowd right from the start, bringing a girl fan up out of the crowd to sing the final verse, before stage diving into the crowd. They followed that with the two big singles from the band's latest album, "Bang Bang" and the title track, "Revolution Radio." And then what followed was a steady string of hits, with just enough deep tracks thrown in to satisfy the hard core fans.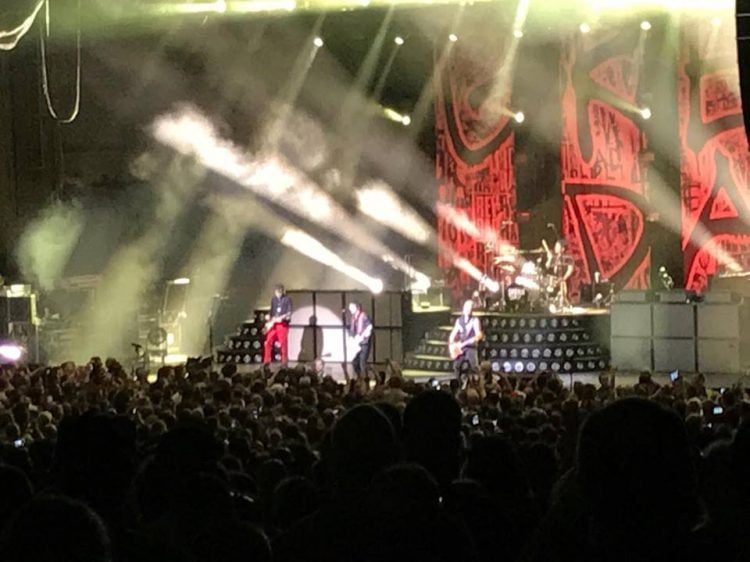 As they have on recent tours, the strong trio of Armstrong, Cool, and bassist Mike Dirnt were supported by Jason White on lead guitar, Jason Freese on keys and saxophone, and Jeff Matika adding background vocals and guitar. The sound throughout was excellent, with both Tre Cool and Mike Dirnt getting moments to let their strong playing shine, but there was never any doubt that Armstrong is artistic connective tissue and the non-stop energizer bunny, "keep the spotlight on Billie Joe," star of the show. He ran non-stop, playing rhythm guitar much of the show, always mugging for the crowd. Highlights included "Longview" (with another fan, a guy in a "Dookie" shirt, singing the final verse), "Hitchin' a Ride," "Basket Case," "She," and the fans pretty much took over the singing duties on "Boulevard of Broken Dreams" and "Welcome to Paradise."
While there was an undertone of political frustration in Armstrong's between song rants, he complained about "politicians" in general and no one by name, but he cried out several times "No racism, no sexism, no homophobia," which was on the back on one of the band's t-shirts for sale. But mostly the politics was carried in songs like "Minority," which included an acoustic tone on the guitar with Freese playing accordion. Cool delivered a stirring drum solo before the band was whipping into their Operation Ivy cover, "Knowledge," which brought Freese forward on sax, while Billie Joe brought an 11 year old girl who was a novice guitar player to the stage to play the three chord chorus… which she managed to do with her tutor nearby, and then Armstrong gave her the guitar to take home… so, yeah, that was cool.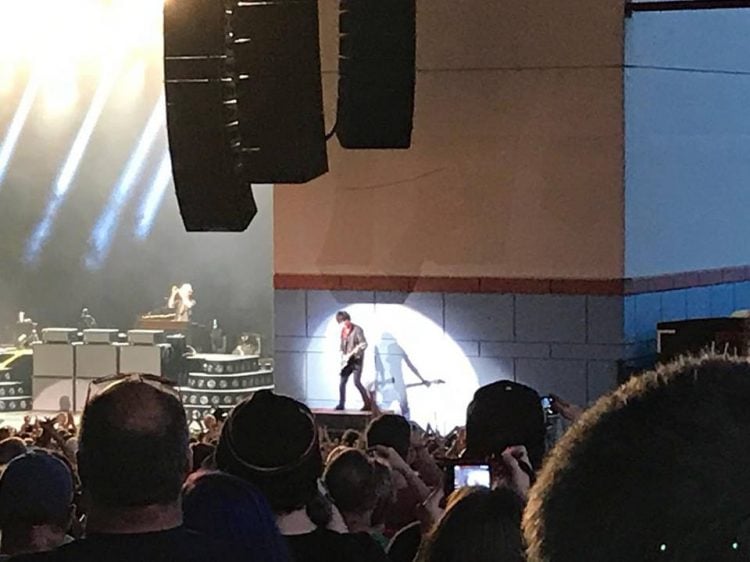 For "King for a Day" the band donned Village People/disco clothes, and the jam launched into a sax driven solo section that quickly devolved into a joke version of the George Michael song, "Careless Whisper." When the fan got to the medley on the setlist that included "Shout"/"Always Look On the Bright Side of Life (Monty Python)" / "Satisfaction" /"Hey Jude," they rushed to the point, falling to the ground almost immediately on the first chorus of "Shout" and staying their as they played with Armstrong, momentarily paying tribute to the melodies by the Stones and Beatles, after complaining how the last week had been hellish… "I hate Nazis," and "I hate racists" he shouted to loud cheers. The band closed the set with two more from the new one, "Still Breathing" and "Forever Now."
For the inevitable encore, I have to admit they did make the fans cheer for a good 5 minutes, they played two from their biggest seller and the source material for their Broadway production, "American Idiot," following the title track with the long suite that is "Jesus of Suburbia." At that point the principle trio took a final bow.
Then, with almost no wait, Armstrong came back again, this time alone with an acoustic guitar to deliver a sing-along versions of "21 Guns" and "Good Riddance (Time of Your Life)." While had taken some guitar solos on electric that were more flash than substance throughout the concert proper, on the last song he did some lovely finger picking for a few measures as if to suggest that underneath all the noise and spectacle, these were real songs played by real musicians… and frankly it's those songs, and that playing that still makes this still punk, still great rock band matter.
– Reviewed by Brian Q. Newcomb
Latest posts by Brian Q. Newcomb
(see all)