Temples


Volcano
Fat Possum Records [2017]


Fire Note Says: New sounds erupt on Temples' second album.
Album Review: Temples seemingly came out of nowhere in early 2014 with their debut album Sun Structures. Packed with fully-formed neo-psychedelic pop and cavernous space rock, Sun Structures set the bar high and garnered the band some well-deserved attention (find my review of it here: HERE). After touring behind the record, Temples returned to the studio in 2016 to record a follow-up, resulting in Volcano. The question is: do Temples build on the success of the first record, or does Volcano fall victim to the dreaded sophomore slump?
While song-for-song it isn't as strong as the debut, Volcano isn't just a repeat either, taking new approaches to the band's trippy brand of neo-psychedelia, most of which work. While Sun Structures seemed to be the work of a confident band arriving with a fully formed sound, on Volcano they color outside the lines more often, taking risks and experimenting with song structure, effects, and overall vibe. "Transitional" may not be quite the right word, since the basic Temples sound is still here in spades—it's just been augmented with new dimensions. That fact might alienate some fans that just want Sun Structures Redux, but the tentative steps toward evolution are a good indication that the band isn't just content to rest on their laurels.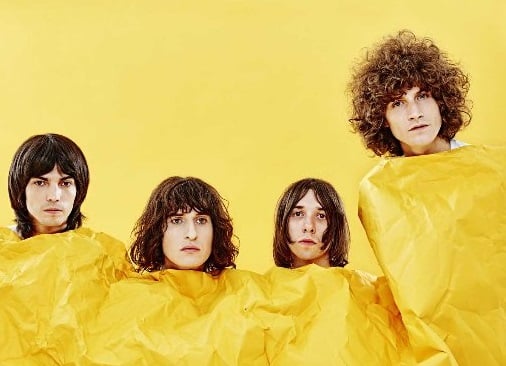 By far the strongest track is "I Wanna Be Your Mirror," a prime slice of Todd Rundgren-esque progressive pop, complete with catchy hooks, space-age synths, and a driving rhythm section with heavy drums and fuzzy bass. Like the best tracks on Todd's A Wizard, A True Star, it's weird enough to make you sit up and listen, but it's also packed with plenty of melodic elements that make it stick in your mind. Another highlight, "Born Into The Sunset," is classic Temples (as much as that can be said for a band with one prior album). James Bagshaw's boyish vocals, somewhat reminiscent of Sean Lennon, float atop bright, kaleidoscopic textures and electronic effects that land somewhere between the arena-sized ambitions of classic U2 and the atmospheric haze of the last few Flaming Lips records.
So even though Volcano isn't as instantly remarkable as Sun Structures, in many ways it's a more mature record, one that sees the band trying new things in an attempt to avoid stagnation. It's a strong follow-up, but the real test will be on Temples next album—they established their sound on their debut, and now they've shown they can go beyond their comfort zone. Time will tell if they settle into a groove, keep chasing relevancy, or truly start to carve out a unique niche for themselves, but in any case Volcano is well worth checking out.
Key Tracks: "I Wanna Be Your Mirror" / "Born Into The Sunset" / "Roman Godlike Man"
Artists With Similar Fire: Tame Impala / Todd Rundgren / Mew
Temples Website
Temples Facebook
Fat Possum Records
-Reviewed by Simon Workman

Simon Workman has loved rock n' roll ever since his dad made him Beatles and Beach Boys mix tapes as a kid. These days his musical interests have a wide range, though he's still got a strong connection to the music of the 60s and 70s. He lives in Dayton and is currently working on a PhD in English literature at the University of Cincinnati. You can follow him on Twitter and Instagram @simonworkman.

Latest posts by Simon Workman (see all)
Please follow and like us: