Temples


Sun Structures
Fat Possum Records [2014]




Fire Note Says: Temples' impressive debut is melodic psych done right
Album Review: Temples is a four-piece hailing from the small English town of Kettering and while they haven't been around for long, their brand of pop-inflected psych rock has garnered a lot of attention. Listening to Sun Structures, their first LP, it's easy to see why: despite being newcomers to the psychedelic revival, Temples songs feel like the product of an experienced, mature band. Over Sun Structures' twelve tracks, Temples fill every bit of space with musical ideas, covering sonic territory from fuzzy acid rock to spacey proto-prog to harmony-laden,British Invasion-influenced freakbeat, often within the same track.
Let's get one thing out in the open: if you're familiar with Tame Impala's brand of neo-psychedelia then Temples' tunes will sound similar. But this resemblance isn't a bad thing, and there are plenty of differences that make Temples stand out. For one thing, Temples aren't afraid to inject a little psych-pop into their sound every now and then. Early standout "The Golden Throne," for instance, combines a catchy melody straight off Nuggets II with a bass-heavy groove. "The Guesser" is another great "poppy" number, feeling like something The Zombies might have come up with had they joined forces with Dave Fridmann or Todd Rundgren.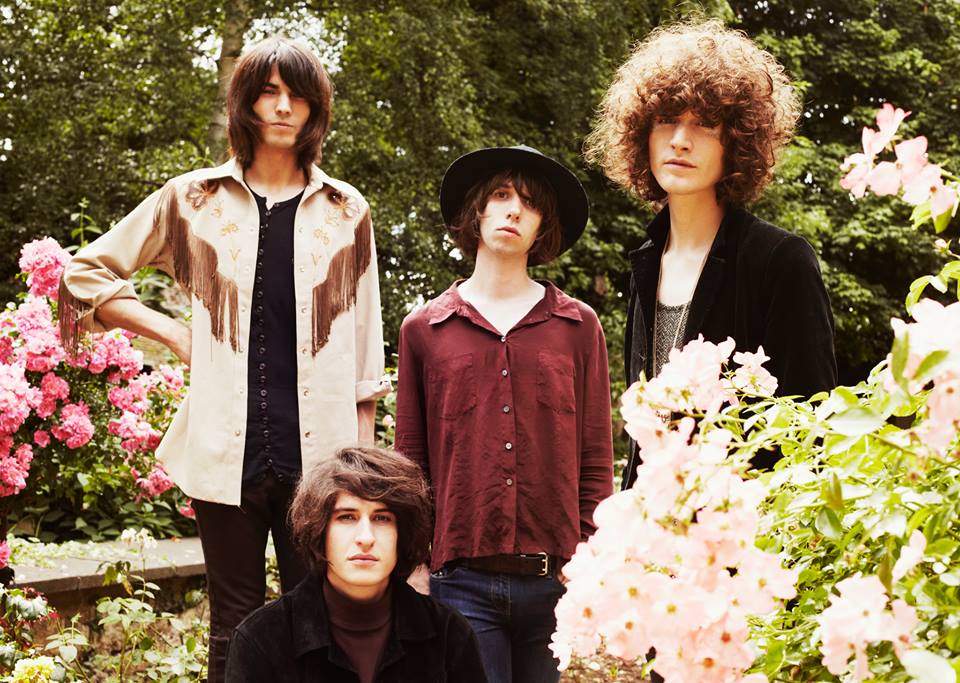 As another point of departure from Kevin Parker and company, where Tame Impala usually seem to either want to rock out or create a trippy atmosphere, Temples almost always seem to be trying to do both at the same time. The results are frequently satisfying, as they are on "A Question Isn't Answered," which brings together handclaps and an almost Celtic-sounding lead riff, channeling them through late-60s hard rock, with distorted guitars and layers of backing vocals providing a 'heavy' vibe. The opening track, "Shelter Song," is another great example: a "Ticket to Ride"-style lead guitar anchors the song while call-and-response vocals and musical left turns keep things interesting until the last note.
There are plenty of other inventive and unique moments throughout Sun Structures, like the mellotron-accented pop meets skittering freakbeat of the title track, the symphonic swells of the expansive "Sand Dance," or the quiet melancholy of the finale, "Fragment's Light." But these descriptions just begin to scratch the surface of Temples' achievement. Sun Structures is strong not just because of its diversity but also because of its consistency: there really isn't a bad track here, and psych fans of all stripes will find several things to love. The best part is that this is just Temples' first album; thank goodness we have Sun Structures to keep us busy till the next one.
Key Tracks: "The Golden Throne," "Shelter Song," "Sand Dance"
Artists With Similar Fire: Tame Impala / The Move / Unknown Mortal Orchestra


Temples Website
Temples Facebook
Fat Possum Records
-Reviewed by Simon Workman

Simon Workman has loved rock n' roll ever since his dad made him Beatles and Beach Boys mix tapes as a kid. These days his musical interests have a wide range, though he's still got a strong connection to the music of the 60s and 70s. He lives in Dayton and is currently working on a PhD in English literature at the University of Cincinnati. You can follow him on Twitter and Instagram @simonworkman.

Latest posts by Simon Workman (see all)
Please follow and like us: