Russian Circles


Guidance
Sargent House Records [2016]


Fire Note Says: The consistency of Russian Circles is remarkable.
Album Review: I was a big fan of Russian Circles' last album, Memorial. I was excited to give their new album, Guidance, a listen and it didn't disappoint. I would describe Russian Circles as a dreamy-heady-metal band. At times pensive and soft, and at others thunderous and angry, the band's members (Mike Sullivan on guitar, Dave Turncrantz on drums, and Brian Cook on bass) take turns showcasing their talent on the seven tracks found on this LP.
"Asa" starts Guidance with a guitar-centered tune. As a reminder, Russian Circles songs almost always have no words, so instruments are front and center throughout the album. "Asa" allows you to get comfortable before the heavier "Vorel." It's one of the two tracks that hit hard, and does so in part because of its contrast to "Asa." "Vorel" is essentially allowing Turncrantz to show off on drums, which are amazing. The rest of the band supports those drums; if you love drumming you'll enjoy "Vorel," and the rest of the album as well.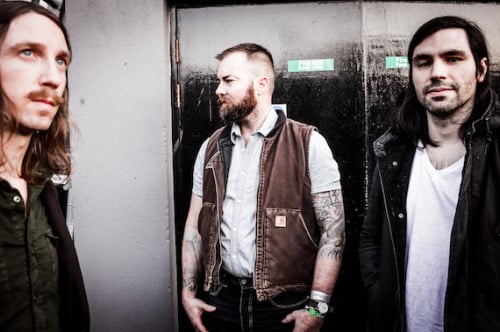 "Afrika" and "Overboard" are both refreshing centerpieces to the LP. "Afrika" shines because of its patience to develop over time. It starts as more of an anthem and then kicks into a darker gear. That momentum keeps up with "Calla," which always seems to be on the brink of becoming oppressive but knows when to take a step back and let you breathe.
For a spectacular album-listening experience, it's hard to beat Russian Circles. Not being confined by the three- to four- minute pop song construction allows for Guidance to flow more naturally from beginning to end. The lack of vocals again works in the band's favor so as to not double down on the moodiness and anger of most metal bands. I get to supply my own lyrics, which are at times hostile, but can also be full of reverence and wonder.
Key Tracks: "Afrika" / "Vorel" / "Calla"
Artists With Similar Fire: Deafheaven / Mogwai / Boris
Russian Circles Website
Russian Circles Facebook
Sargent House Records
-Reviewed by Matthew Heiner

I appreciate being able to write for The Fire Note, as it gives me an excuse to keep up with what's happening in new music.

By day I am a dad and a psychologist; I often use music as a way to connect with both my kids and my clients. One of my proudest moments as a father was when my 12-year-old daughter told me of her undying love for Radiohead.

Latest posts by Matthew Heiner (see all)
Please follow and like us: