Lisa Papineau


Blood Noise
Neurotic Yell Records [2013]



Fire Note Says: Lisa Papineau's Blood Noise is a moody weave of beauty and darkness.
Album Review: It's always my job as a music journalist to expand my horizons and branch out. With Lisa Papineau's new album Blood Noise, that's exactly what I did. It's funny though, because Papineau's artistic beauty and storied past make it easy—I'm sure you've heard Papineau but just didn't know it at the time. Papineau has worked with trip-hop-ish electronic outfit BIG SIR, which features Mars Volta bassist Juan Alderete (Cedric also lent his drum talents' to 2012's Before Gardens After Gardens). She's also lent her voice to the French electronic chill act Air, and been featured with electro shoe-gazers M83; and if that wasn't enough, she appeared on the Academy Award Nominated Pina Soundtrack. When you put all that together it's a very impressive résumé.
Blood Noise, Papineau's unpredictable follow up to 2010's Red Trees, takes its itself seriously. While not directly comparable to the straight shot of doomsday moodiness like contemporaries Thom Yorke, Portishead, How To Destroy Angles, or SONOIO, Blood Noise forms a fierce, serpentine path that forges its way into the expansive meandering beauty of siren Liz Harris' Grouper, Mirrorring, or Julianna Barwick. Blood Noise eventually reveals its beauty, but it does take some time to get going. The brooding electro crawl of "Dream The Wild," "Out For a Swim," and "Early Spring" is only one piece of the ever-evolving experiment. "Rainmaker," for example, echoes its title as beat and vocals fall from the sky with the slow motion impact.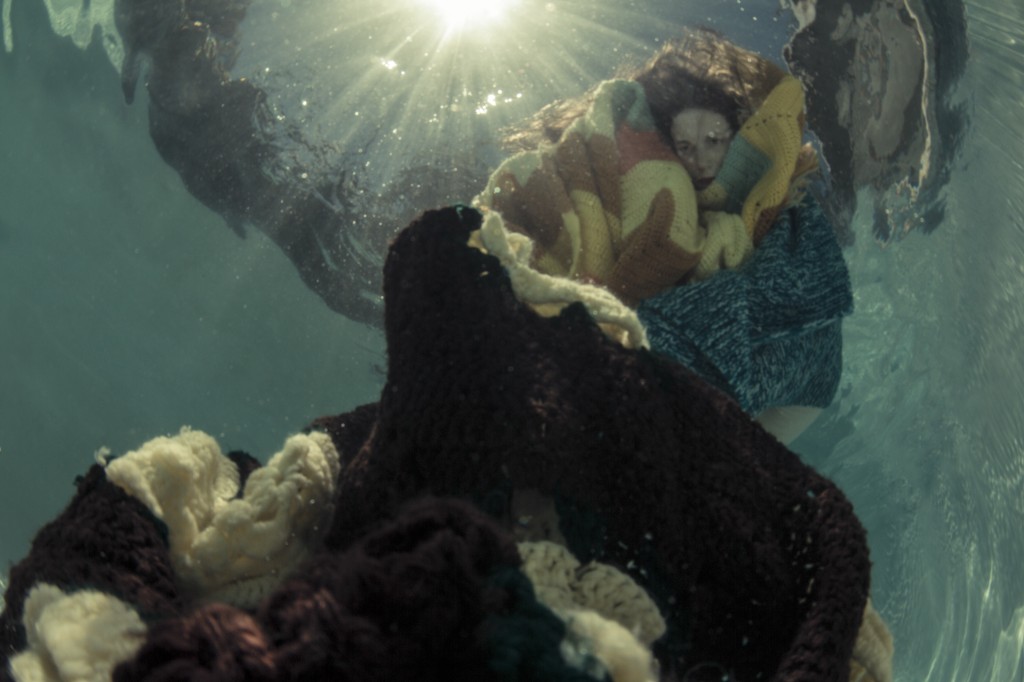 Where I find Blood Noise at its strongest is the back half, starting with "Frozen Blue." The first four tracks aren't weak by any means, but "Frozen Blue" struck me a bit more than most. The grungy instrumentation propels the song forward as Papineau's vocal churns like rusty gears. "Light Up World"—a personal favorite—is similar to Popineau's other project BIG SIR. The chaotic bounce, channeled through a Thom Yorke-esque filter, collides with that Pink Floyd "On The Run" vibe—if you listen carefully, you'll hear it. "Little Light" turns Papineau into a mother, singing her sweet child to sleep with the reassuring lyrics: "Here am I, your little lullaby / Calling out the stars / Here am I, a single troubled cry / to tell the night who you are. "The Weather Gone" ends the album on a fun note with speedy beats, explosive hand claps, and an upbeat Papineau.
The French word for water just so happens to be l'eau, so every time I see Lisa Papineau's name—appropriate or not—I relate her talents' to water – pure, unpredictable and refreshing. Blood Noise's rapid fluidity is enigmatic, sporadic, simplistic, and dramatic; Papineau isn't pushing any boundaries, but she's always pushing to find beauty. Not every track on Blood Noise is a winner, but it's still rewarding to see some musical schizophrenia because what ties everything together nicely is Papineau's voice—it's consistently beautiful and chilling. Lisa Papineau is one to follow and this latest album definitely has me excited for what comes next!
Key Tracks: "Frozen Blue," "Light Up World," "Little Light"
Artists With Similar Fire: Grouper / Blue Tofu / BIG SIR

Lisa Papineau: Blood Noise Album Stream
Lisa Papineau Website
Lisa Papineau Facebook
Neurotic Yell Records
-Reviewed by Christopher Tahy

Along with TFN, Christopher Tahy writes for several music publications and has a modest (but growing) vinyl collection that spans genres and generations, while being a guitarist at heart. He enjoys the Dayton music scene and can never turn down a great rock riff!

Latest posts by Christopher Tahy (see all)
Please follow and like us: