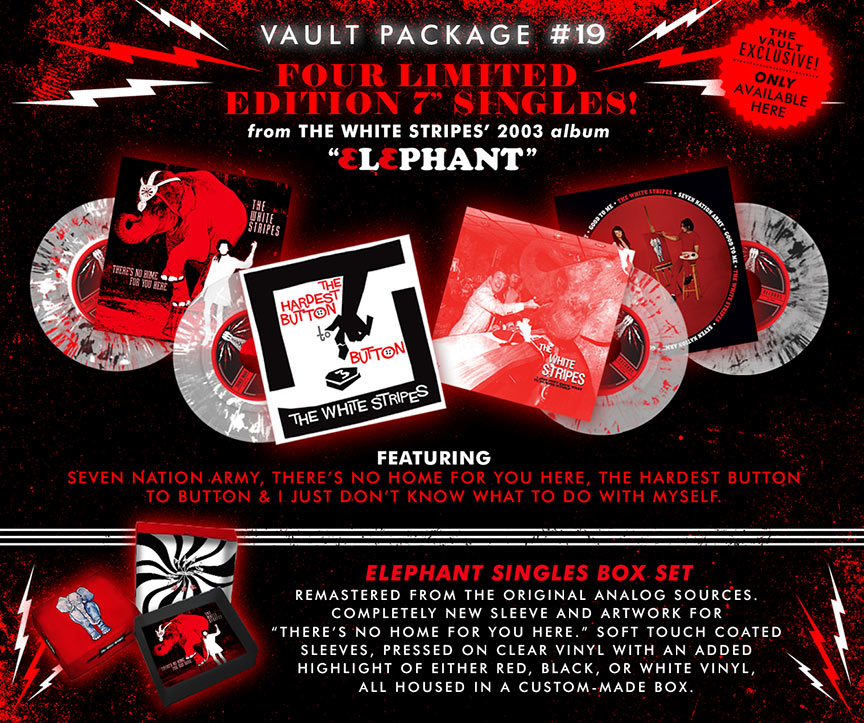 For Third Man's 19th installment of the Vault, The White Stripes are front and center again. The package will consist of limited colored vinyl pressings of all of the White Stripes singles from their album Elephant.
These include…
"Seven Nation Army"
"I Just Don't Know What to Do With Myself"
"The Hardest Button to Button"
"There's No Home For You Here"
The b-sides consist of covers of some of Detroit's most pre-eminent artists in 2003…
"Good to Me" written by Brendan Benson and Jason Falkner and originally released on Benson's 2002 album Lapalco.
"Who's to Say…" written by Dan Miller and released by his outfit Blanche in 2003 on their album If We Can't Trust the Doctors…
"St. Ides of March" written by the Soledad Brothers and released on their self-titled album of 2000.
As well as a White Stripes live medley of "I Fought Piranhas / Let's Build a Home" recorded at the legendary Electric Lady Studios in New York.
Each of the tracks have been remastered from the original analog sources while each being housed in a hybrid sleeve.
Each record will be pressed on clear vinyl with with an added vinyl highlight color insertion of either red, black or white. For "There's No Home…" all three of those colors will be added to clear vinyl, to make something truly exciting. All of this will be housed in a custom-made telescoping box.
You can sign up for the vault HERE.

Latest posts by Christopher Anthony
(see all)