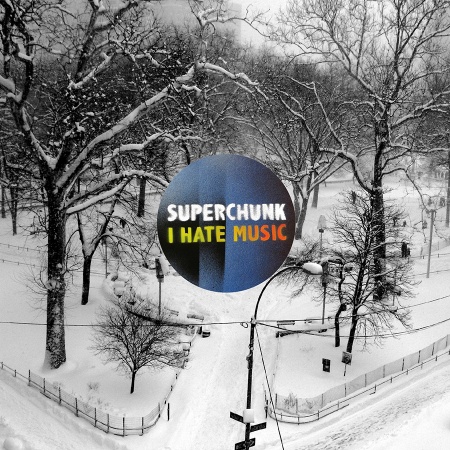 Superchunk will release I Hate Music, their tenth studio album, on August 20.
After taking nearly a decade off following the release of Here's to Shutting Up, Mac, Laura, Jon, and Jim decided to shout it out again in 2010 with Majesty Shredding, an album perfectly described by its own title. The band's forthcoming release, I Hate Music, is Majesty's dark twin. It's similarly aggressive and every bit as energetic. That title isn't tongue-in-cheek, but it's really more a question than a statement: When you're 20, lazy co-workers and romantic missteps number among your biggest worries; two decades later, life's bigger questions knock louder and louder, demanding answers.

The limited-edition deluxe LP will be pressed on colored vinyl and include a bonus 7-inch containing two non-album tracks on colored vinyl, along with an I Hate Music stencil. Both standard and deluxe LPs will be issued on 150-gram vinyl and feature a die-cut sleeve. All preorders will come with an I Hate Music poster, the first 200 of which will be signed by the band.
You can pre-order HERE.

Latest posts by Christopher Anthony
(see all)