Victor Villarreal


Sleep Talk
Joyful Noise Recordings [2015]



Fire Note Says: Sleep Talk is the perfect record for a late night of socializing with spirits or just putting on the headphones and drifting off.
Album Review: Victor Villarreal has quietly become one of the most respected guitarists on the indie rock scene with his work in Cap'n Jazz, Owls, Ghosts & Vodka, and Joan Of Arc. His solo debut, Invisible Cinema (2012), was a skilled and calm affair that showcased his talent for creating music around time and space. Sleep Talk finds Villarreal flushing out some of those more earthy ideas into a more tangible sound structure that even include bassist Erik Bocek (Joan of Arc).
This slightly fuller sound can be heard right away on opening track "Whoever Everyone Might Be" as the 40 second guitar intro will pull you in with its precision playing that is both calculated and mesmerizing. When Villarreal sings "without assistance of a substance you've established your connections / I wonder how long you'll stay interested in changing yourself this time," the song immediately takes a dramatic shift in style, mood and tone as Villarreal works in a one and a half minute guitar solo before coming back to the mic. These sort of pace changing moves make Sleep Talk worth every second. The over seven minute "A Mad Dad Dash" is not only the midpoint of the record but a true highlight as the longer canvas gives Villarreal plenty of room to move up, down and sideways with his instrumentation. The center of the track features this really intense strumming that pulls your focus inward as Victor's vocals switch back on with a slight tambourine percussion now faintly keeping beat in the background. It creates the biggest roar on the record even though in reality, the moment is still very soft.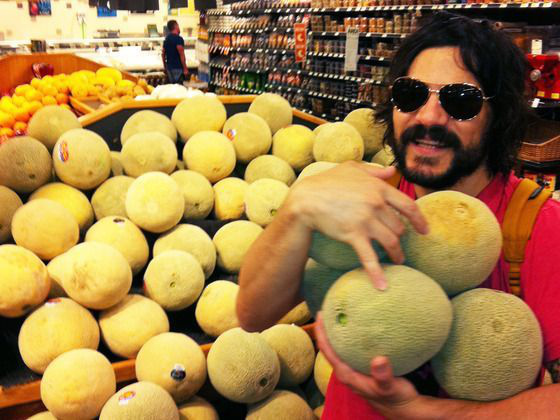 Sleep Talk is a record that is all about the artist and his gift. It is not an album that yells "look at what I can do" but instead comes off as a pure and sincere lesson on how a simple guitar can hook you. There is no more evidence of this than on the instrumental "That Familiar Band Song" which has pulsing start and stops with effects all created by Villarreal. His all-inclusive guitar style is not only surreal at times but meditative that is complemented by his chill vocals. Sleep Talk is the perfect record for a late night of socializing with spirits or just putting on the headphones and drifting off. Victor Villarreal is an artist to absorb, observe and hit repeat because with every spin you are certainly going to hear something new each and every time.
Key Tracks: "Whoever Everyone Might Be" / "Mad Dash Dad Dash" / "The Familiar Band Song"
Artists With Similar Fire: Sam Prekop / Smog / Jim O'Rourke

Victor Villarreal Website
Victor Villarreal Facebook
Joyful Noise Recordings
– Reviewed by Christopher Anthony

Latest posts by Christopher Anthony
(see all)